Archaeologists are carrying out an excavation on a site in Kilkenny following the discovery of four medieval skeletons.
The remains were discovered on 28 July during excavations for a service trench for the new Medieval Mile Museum at St Mary's church in an operation monitored by Kilkenny Archaeology.
The skeletons, which were found at a depth of 0.35m from the surface, have been described as being "very well preserved".
In a statement, Kilkenny County Council said that they are being carefully recorded and analysed in the ground by the archaeological team and osteoarchaeologist Dr Linda Lynch.
It said that once exhumed the skeletons will be brought to a lab for further detailed analysis.
Once the analysis is completed the skeletons may be returned to St Mary's following consultation with the National Museum of Ireland.
According to the council, all of the skeletons are female. It is believed they are two children, aged around eight years, a young adult in her early teens/early 20s and an adult aged around 25 plus.
The statement said that the causes of death may be identified following the lab analysis.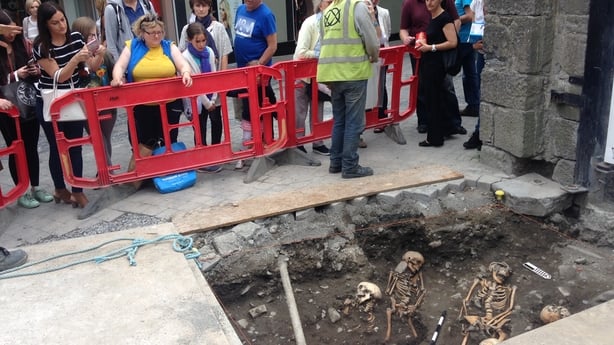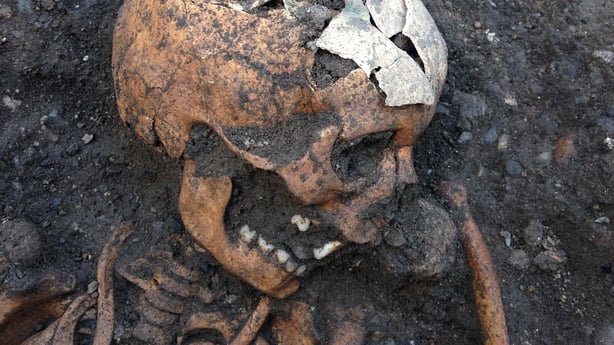 Managing Director of Kilkenny Archaeology Cóilín Ó Drisceoil said that the skeletons can be dated to 1250-1350 AD.
He said: "Their place of burial … would typically imply they were not wealthy, and instead they were probably the poor of the medieval town. Further proof of this comes from the fact none of the skeletons were buried in coffins and they were instead buried in simple shrouds."