Documents obtained by RTÉ News show strong opposition to proposals to formally recognise, regulate, and fund Mixed Martial Arts fighting.
The Irish Martial Arts Commission, which has been asked to consider taking MMA under its umbrella, outlined its opposition to the sport in a position paper released by Sport Ireland under the Freedom of Information Act.
It said that MMA, in its current form, is not a sport, and like dog fighting did not deserve to be legitimised.
It said it agreed with reports describing MMA as "pornographic, sadistic and voyeuristic to its core".
"We have to be strong enough to say no - to draw a line - and live with the criticism of the MMA fan core and vested business interests".
"If MMA is not interested in changing the rules regarding elements such as 'ground and pound' then a ban is the only option to those whom 'they' are saying should regulate MMA", it said.
The IMAC is currently involved in a process to determine if MMA can become an affiliate sport, and therefore be regulated and funded by Sport Ireland.
The Irish Mixed Martial Arts Association has said it has been "the driver of huge changes within the sport of MMA in Ireland".
In a statement this afternoon, it said it had changed the rules for amateur competitors in the past year, and said it had sent a team of 13 athletes to the Amateur World Championships in Las Vegas.
The team topped the medal count, with six Irish athletes on the podium, including one gold, it said.
It said in its statement: "Guided by medical professionals, we have voluntarily instated medical standards at events that exceed those in place for the vast majority of sporting events in Ireland.
"We are committed to furthering that good work through official recognition, and to follow the process that Sport Ireland have laid out for us as the representative body for MMA in Ireland," it added.
Calls for the formal recognition and regulation of MMA were made after the death of the Portuguese fighter Joao Carvalho on 11 April after receiving serious head injuries in an MMA fight with Charlie Ward at the National Stadium.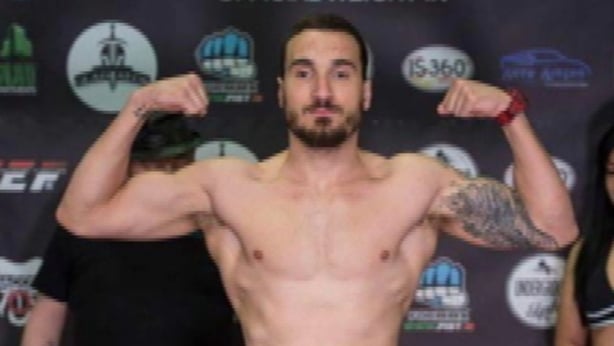 In documentation released under the Freedom of Information Act, the IMAC said "consumers of MMA want to see people not just beaten, but physically damaged".
"There are elements which are allowed in MMA that are intentionally dangerous, that cannot be avoided no matter how many doctors are present."
Separate documents show that a prominent neurosurgeon raised serious concerns about the safety of MMA fighting with the head of Sport Ireland, and with the Minister for Sport, two weeks before the death of Mr Carvalho.
Professor Dan Healy, a neurologist at Beaumont Hospital, raised safety concerns about the sport saying the authorities should either "have the courage to ban it, or take safety out of the hands of commercial promoters".
In a second email to then-minister of state for tourism and sport Michael Ring and to John Treacy of Sport Ireland, after Mr Carvalho's death, Prof Healy urged them to put MMA on the road to formal recognition, saying "it would be helpful if the sport was given clear targets to reach and assistance in doing so. In EU terms think of it as "accession negotiations with Turkey".
---
Note of Clarification:
In an earlier version of this story we reported that comments by the IMAC were made to the International Olympic Committee. We are happy to clarify that while the comments were accurately reported, they were in fact made by IMAC in a position paper released by Sport Ireland under the Freedom of Information Act.
---