More people believe the Government will last longer than a year compared to the period just after the minority administration was formed, a new opinion poll suggests.
The latest Red C opinion poll for Paddy Power shows confidence in the Government has increased but Fianna Fáil remains the most popular party in the country.
Revealed on RTÉ's Today with Sean O'Rourke, the poll suggests a small increase in support for Fine Gael, Sinn Féin and Independents compared to the last Red C poll earlier this month.
Fianna Fáil is on 28%, down one percentage point while Fine Gael has a corresponding increase to 27%.
Sinn Féin is up two points to 15%; the Independent Alliance is unchanged at 5%; Labour is down two to 4% while Independents are up three to 10%.
A one point drop for the AAA-PPP puts the group at 4%. The Social Democrats and the Greens are both down one point to 3% each.
The poll also suggests the percentage of people "confident" in the Government has increased 8 points to 56% since May.
Almost two thirds (63%) of those polled said they expected the Government will last longer than a year, up nine points since May.
The number of people who think Taoiseach Enda Kenny should "go now" has dropped 10 points to 38% compared to a survey in May.
Red C conducted the telephone poll of 1,000 adults from Monday to Wednesday this week.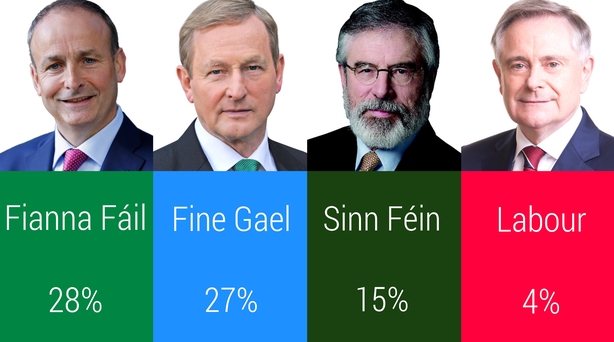 Leo Varadkar is the most popular replacement for the Taoiseach among Fine Gael voters.
This poll found 45% support for Mr Varadkar within that group, while Simon Coveney stands on 30%, Frances Fitzgerald 9%, Simon Harris 5%, Paschal Donohoe 4% and Regina Doherty 2%.
Voters were also asked how they would vote if there was a referendum on a united Ireland.
Some 65% said they would vote yes, which is an increase of eight points compared to a poll finding in 2010.