At least nine people, possibly including a gunman, have been killed and an unknown number injured in a shopping centre shooting in Munich, police said.
A state of emergency has been declared in the city while it remains unclear if more attackers are still on the run.
Witness reports say three gunmen fired multiple shots on Hanauer Street before moving to the Olympia Einkaufszentrum shopping centre in the south German city at about 6pm.
Unverified video footage appeared to show a man taking fire at people outside a McDonald's restaurant near to the shopping centre.
The sound of multiple shots being fired can be heard as shoppers and passers-by run for cover.
People were seen fleeing from the building in another video posted on social media.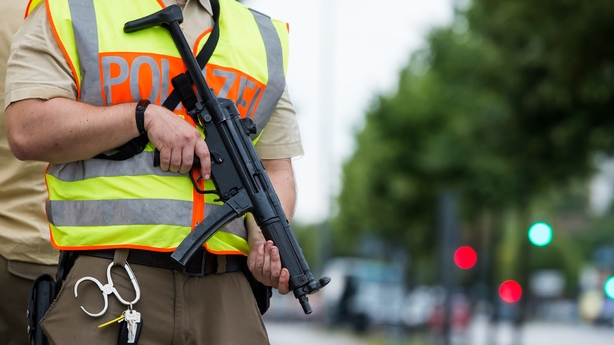 Munich Police confirmed on Twitter that there had been nine deaths and an unknown number of injuries.
"We are verifying the possibility of one dead person being involved in the shooting," the force said.
Police are urging people to avoid public places and said that they could not confirm if there were other crime scenes apart from Hanauer Street.
While a police spokesman said they suspect the attack was of a terrorist nature, there is no indication of an Islamist motive.
There has been gunfire - the Situation is unclear. we will keep you informed #munich #west #moosach

— Polizei München (@PolizeiMuenchen) July 22, 2016
Unconfirmed reports of more violence and possible #gunfire in the City Center. Situation is unclear. Please avoid public Areas. #munich #oez

— Polizei München (@PolizeiMuenchen) July 22, 2016
Police have responded to the attack in large numbers. Dozens of vehicles can be seen lining the street outside the shopping centre, and a number of armed officers and a helicopter are at the scene.
A cordon was put in place and the area has been evacuated.
Rail travel and public transport in the city has been stopped and Munich's central station has been closed, according to local media.
Drivers have been urged to clear the motorways around Munich, and nightclubs in the city will remain closed on Friday night, local media said.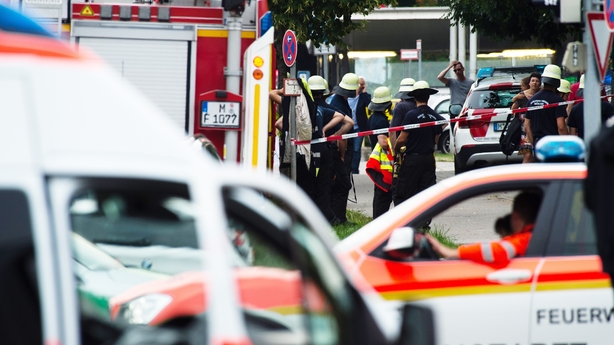 Refuge has been offered to people stranded around the city via social media, under the hashtag #OffeneTur - or #OpenDoor - inviting people to stay if they are unable to get home.
Facebook's Safety Check feature has also been activated so that people can let friends and family know that they are safe.
The shopping centre in the northern part of Munich is not far from the city's Olympic stadium in the Moosach district of the Bavarian capital.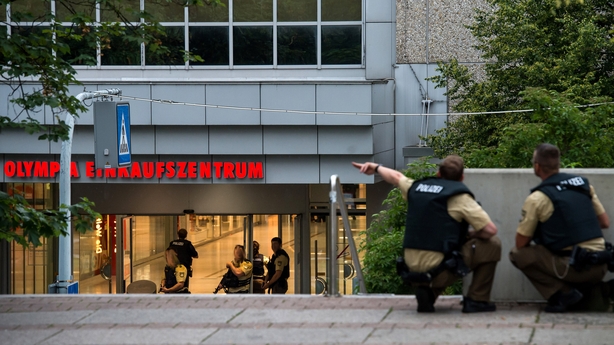 German President Joachim Gauck saidhe was "horrified" by the "murderous attack."
"I am with all the victims in my thoughts and all those who are mourning or fearful for loved ones," he said in a statement, adding that his "solidarity" was with emergency services personnel trying to "protect people and save lives".
Interior Minister Thomas de Maiziere, who was on a flight to the New York when the shooting rampage began, will immediately return to Germany, a ministry spokesman said.
Chancellor Angela Merkel will convene her security council tomorrow to address the rampage, her chief of staff Peter Altmaier said.
Mr Altmaier told ZDF public television on Friday that Ms Merkel was being "constantly briefed" on developments in the southern city, where police say up to three gunmen are still at large.
"The cabinet ministers concerned are on their way to Berlin," he added.
The Department of Foreign Affairs say they have no reports of any Irish citizens being caught up in the incident.
A spokesperson said they are closely monitoring the situation and are in contact with the Irish Embassy in Berlin.
Follow @PolizeiMuenchen for security advice re #Munich @dfatravelwise @dfatirl @MunichGAA @GBCMunich @Kiliansirishpub

— IrelandEmbassyBerlin (@irlembberlin) July 22, 2016
We stand with Chancellor Merkel & the German people. Sympathy to families of the innocent people who have lost their lives in #Munich

— Enda Kenny (@EndaKennyTD) July 22, 2016
Minister for Foreign Affairs Charlie Flanagan said he was "horrified by the violence and loss of life that has occurred."
Munich Police previously said in a statement: "At around ten to six today there were witnesses who called the police and said there was a shooting at the Hanauer Street.
"The shooting moved from that street to the shopping centre. The witnesses said there were three different people with weapons."
US President Barack Obama has pledged support for Germany after the attack
"We don't yet know exactly what's happening there, but obviously our hearts go out to those who may have been injured," Mr Obama said, before speaking at a White House meeting.
"We are going to pledge all the support they may need," he said.
The attack takes place days after a 17-year-old asylum-seeker wounded passengers on a German train in an axe rampage claimed by the self-proclaimed Islamic State group.
Bavarian police shot dead the teenager after he wounded four people from Hong Kong on the train and injured a local resident while fleeing.