Taoiseach Enda Kenny has said the common travel area between Ireland and the UK must be protected and there could be no return to the days of checkpoints and watchtowers.
Speaking at a meeting of the British-Irish Council, Northern Ireland's First Minister Arlene Foster criticised Mr Kenny's comments earlier in the week about a border poll at the MacGill Summer School.
They had been "unhelpful", she said.
Mr Kenny said a border poll might not arise now or ever, but it had been envisaged by the authors of the Good Friday Agreement.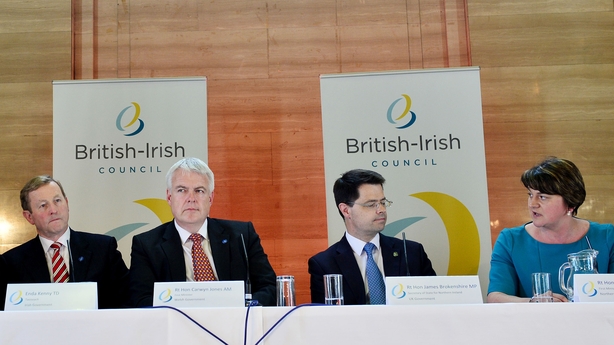 Ms Foster has said the exchange of views between her and the Taoiseach on the matter were "forthright".
Mr Kenny, Ms Foster and other leaders from the UK, Ireland and administrations like the Channel Islands and the Isle of Man met in Cardiff for a special meeting of the council.
It was the first time all of the leaders, some of whom held different views on Brexit, had the chance to discuss, face-to-face, the fallout from the referendum result.
The council is a low-key body established under the terms of the Good Friday Agreement.
But it has acquired an unexpected relevance since the Brexit vote.
Ms Foster said talk of a border poll was causing instability and she looked forward to getting beyond the situation after the summer.
Northern Ireland's Deputy First Minster Martin McGuinness said he wanted to represent the views of those in Northern Ireland who had voted to stay in the EU but Arlene Foster insisted the decision had been taken by the UK as a whole.
Mr McGuinness said it would be very hard to protect the Common Travel Area, and the prospect of a hard border could not be ruled out in light of British Prime Minister Theresa May's remarks on the subject before she became British prime minister.
Mr McGuinness said he and Ms Foster would be meeting Ms May in Downing Street and would seek clarification of her views.
Ms Foster said the border of watchtowers and checkpoints had been a response to a terrorist threat and she too had no wish to see any kind of barrier between the two parts of the island.
Scottish First Minister Nicola Sturgeon wants Scotland to stay in the EU and a second referendum on independence there is a real possibility.
Speaking afterwards Ms Sturgeon said today's discussions had been "robust".
Her Welsh counterpart Carwyn Jones said all those around the table needed to be directly engaged in the Brexit negotiations.
One dilemma for Mr Kenny is how to build alliances without being seen to side with forces that could ultimately break up the union involving not just Northern Ireland but also Scotland and Wales.