A speechwriter hired to co-write Melania Trump's speech has accepted responsibility for the passages that were almost identical to a speech previously given by Michelle Obama in 2008.
Meredith McIver has issued a statement to say that it was her fault the sections were included in the speech.
She said she offered her resignation to the Trump campaign, but that it was rejected.
She describes herself as an in-house staff writer in the Trump organisation and also a "longtime friend and admirer of the Trump family".
Trump campaign speechwriter offers resignation for #melaniatrumpspeech plagiarism but is rejected.@rtenews #RNCinCLE pic.twitter.com/jeHqppxbNK

— Caitriona Perry (@CaitrionaPerry) July 20, 2016
She said Melania had read some passages of Michelle Obama's speech over the phone to her as an example of someone she admired.
Ms McIver said she had written them down and later included "some of the phrasing in a draft that ultimately became the final speech".
She said "no harm was meant".
She said she wished to apologise for the "confusion and hysteria" her mistake had caused.
Last night, Donald Trump secured the Republican nomination to run for the White House in November's presidential election.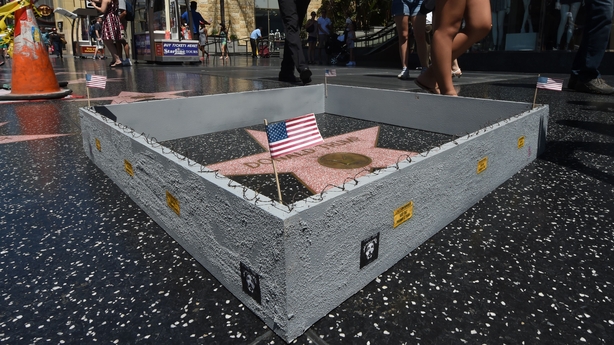 Artist builds wall around Trump's Hollywood star
Meanwhile, a Los Angeles-based street artist has built a wall around the Republican presidential hopeful's star on the Hollywood Walk of Fame.
Mr Trump has repeatedly vowed during his campaign to build a wall between Mexico and the United States, drawing criticism from rights groups.
The 15cm wall, made of wooden planks and topped with barbed wire, was put up yesterday evening around the controversial mogul's star by the artist known as Plastic Jesus.
It was taken down shortly afterwards.
"I built and paid for the wall myself. No Mexican money," tweeted the British-born artist, as curious onlookers took pictures of his work before it was removed.
Mr Trump got his star, located on Hollywood Boulevard, in 2007 for his hit reality TV show The Apprentice.