David Cameron formally tendered his resignation today, saying he believed he was leaving the country "much stronger" and the economy "immeasurably stronger" after his six years in office.
Theresa May has become the UK's second female Prime Minister.
Before he left to meet Queen Elizabeth, Mr Cameron said that he believed he was leaving the country "much stronger" and the economy "immeasurably stronger" after his six years in office.
Mr Cameron's audience with the Queen was swiftly followed by the arrival at the Palace of Ms May, who was formally appointed Prime Minister by "kissing hands" with the monarch.
Speaking outside 10 Downing Street, Mr Cameron, in a clear bid to define the legacy that he will leave behind him, spoke of his pride at reducing the deficit, introducing gay marriage, increasing international aid spending and reducing NHS waiting lists.
He paid tribute to his wife, who he described as "the love of my life" who had "kept me vaguely sane".
David Cameron pays tribute to his children and wife Samantha as he leaves Downing Street to resign as PM.https://t.co/XX1sxC3qlu

— RTÉ News (@rtenews) July 13, 2016
Mr Cameron said he was "delighted that for the second time in British history the new Prime Minister will be a woman, and once again a Conservative".
And he said Ms May would provide "strong and stable leadership in delivering the Conservative manifesto on which we were elected" and wished her well in negotiating the withdrawal from the EU which voters backed in last month's referendum.
Flanked by wife Samantha and children Nancy, Elwen and Florence, Mr Cameron concluded: "It has been the greatest honour of my life to serve our country as Prime Minister over these last six years and to serve as leader of my party over 11 years.
"And as we leave for the last time, my only wish is continued success for this great country that I love so very much."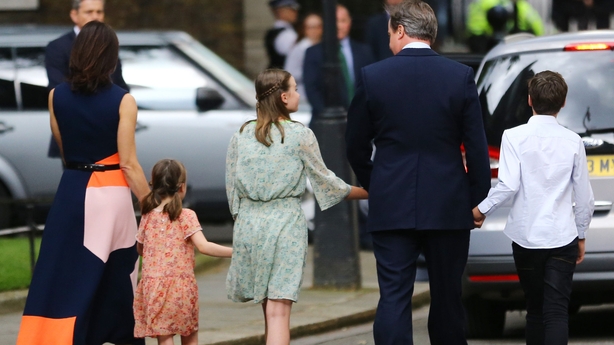 Meanwhile, a Government spokesman said there has already been contact between officials in Dublin and Whitehall, adding that the Taoiseach would speak to the new Prime Minister "sooner rather than later".
Spectre of Europe looms over Cameron legacy
Mr Cameron's departure from Downing Street came just hours after his final session of Prime Minister's Questions in the House of Commons, where he won a standing ovation from Conservative MPs after telling them: "I was the future once".
And he won laughter by telling MPs: "Other than one meeting this afternoon with Her Majesty the Queen, my diary for the rest of the day is remarkably light."
David Cameron tells the Commons his diary is clear except for one more appointmenthttps://t.co/aRHEBqQ7WK

— RTÉ News (@rtenews) July 13, 2016
He said he believed he has clocked up 5,500 questions while Prime Minister - although joked he will leave it to others to decide how many he has answered.
Mr Cameron used his final appearance at Prime Minister's Questions to dismiss suggestions he will look to take over as Top Gear host or England manager, joking they "sound even harder" than being PM.
He also stressed his love for Larry the Downing Street cat and swapped warm wishes with Labour leader Jeremy Corbyn - despite numerous jokes at his opposite number's expense.
In his final exchange with Mr Cameron, Mr Corbyn insisted there will be "plenty more to come" for Ms May after telling MPs he has asked Mr Cameron 179 questions.
Before his 180th question, Mr Corbyn wished Mr Cameron and his family well.
He told the outgoing PM: "I'd also like you to pass on my thanks to your mum for her advice about ties and suits and songs.
"It's extremely kind of her and I'd be grateful if you could pass that on to her personally. I'm reflecting on the lesson she offered.
"But I've got one rumour I want you to deal with. There's a rumour going around that your departure has been carefully choreographed so you can slip seamlessly into the vacancy created this morning on Strictly by Len Goodman's departure.
"Is that your next career?"
Mr Cameron replied: "I don't really have a pasa doble so no, I can promise that's not the case."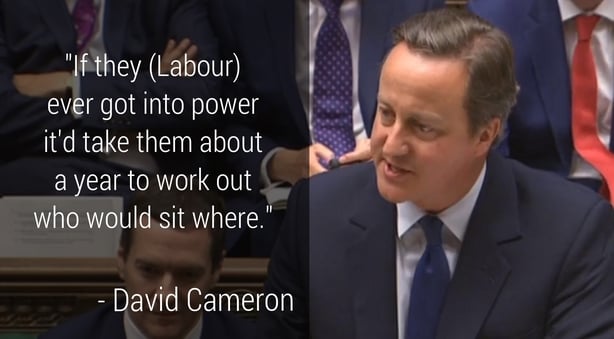 Mr Cameron went on: "I've done a bit research. I've addressed 5,500 questions from this despatch box - I'll leave it to others to work out how many I've answered."
Addressing Speaker John Bercow, he said: "Because of your belief in letting everyone have their say, I think I've done a record of 92 hours of statements from this despatch box as well as some very enjoyable Liaison Committee appearances and other things.
"I will certainly send (Mr Corbyn's) good wishes back to my mother. He seems to have taken her advice and is looking absolutely splendid today."
Mr Cameron added to the Labour leader: "It gives me the opportunity to put a rumour to rest as well, even more serious than the Strictly Come Dancing one - you'll appreciate this because El Gato, your cat, is particularly famous - the rumour that I somehow don't love Larry.
Proof... pic.twitter.com/UZVXn6WcUw

— David Cameron (@David_Cameron) July 13, 2016
"I do and I have photographic evidence to prove it."
Mr Cameron held up a photograph of himself with Larry.
He added: "Sadly I can't take Larry with me, he belongs to the house and the staff love him very much - as do I."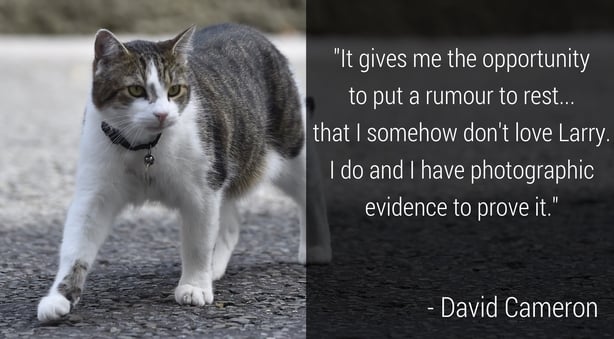 Mr Cameron said that his advice to Ms May is that "we should try and be as close to the EU as we can be", adding that a close relationship with the EU would be good for Scotland.
He told MPs: "I will watch these exchanges from the backbenches, I will miss the roar of the crowd, I will miss the barbs from the Opposition, but I will be willing you on.
"And when I say willing you on I don't just mean willing on the new Prime Minster at this despatch box or indeed just willing on the frontbench defending the manifesto that I helped to put together.
"But I mean willing all of you on. Because people come here with huge passion for the issues they care about, they come here with great love for the constituencies that they represent.
"And also willing on this place, because yes we can be pretty tough and test and challenge our leaders, perhaps more than some other countries, but that is something we should be proud of and we should keep at it.
"And I hope you will all keep at it and I will will you on as you do."
Reflecting on the power of politicians to drive through change, Mr Cameron went on: "The last thing I'd say is that you can achieve a lot of things in politics, you can get a lot of things done.
"And that, in the end, the public service, the national interest, that is what it is all about."
And, in a nod to a famous exchange he had in 2005 when he told the then prime minister Tony Blair "he was the future once", the outgoing PM said: "Nothing is really impossible if you put your mind to it. After all, as I once said, I was the future once."