A proposal to extend Dublin's 30km/h speed limit to all residential roads between the canals went to public consultation today.
The change is supported by council officials and councillors who say it will improve road safety.
But the Automobile Association has said it could be counter-productive.
There is already a 30km/h zone in the city centre core from Parnell Street to St Stephen's Green and other smaller zones in suburbs such as Marino, Irishtown and Ballsbridge.
The proposal is now to extend it to include all residential areas in an area bounded by Phibsborough to the north and Rathmines to the south, as shown on an indicative map by Dublin City Council.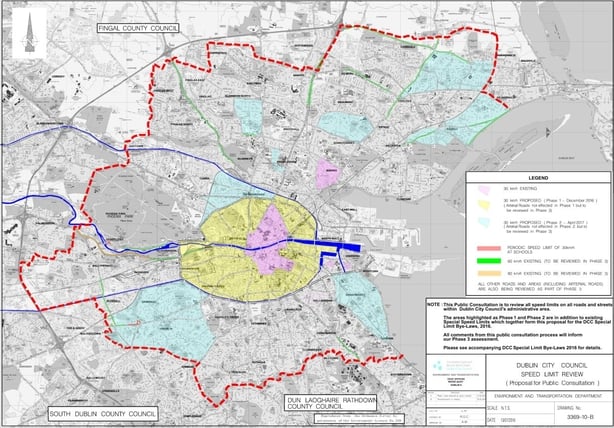 But arterial routes such as Pearse Street and Amiens Street would remain at 50km/h and one - St John's Road West near Kilmainham - would stay at 60km/h.
If it is passed the city council will consider further extensions to the zone next year.
Roseann Brennan, who has campaigned for reduced speed limits following the death of her son Jake, has welcomed the move by Dublin City Council.
She says reducing speed has been proven to reduce death and injuries on the roads.
The Road Safety Authority says only one in ten pedestrians will die if they are hit by a car travelling at 30km/h but this rises to a fatality rate of 90% at 60km/h.
But the AA says introducing a 30km/h speed limit over such a wide area and on unsuitable roads could cause some motorists to disregard speed limits altogether.
The public consultation the proposed new bye laws runs from today until 24 August.