Minister for Finance Michael Noonan has become the latest senior minister to back Enda Kenny in the face of a call for leadership change in Fine Gael over the summer.
Speaking in Brussels, Mr Noonan said the country is fortunate to have Mr Kenny as Taoiseach.
He said it was only two months since Mr Kenny was elected as Taoiseach, and that the parliamentary party of Fine Gael had supported him and the Programme for Government unanimously.
Earlier today Mr Kenny said he "has no intention of being diverted" from the task of leading the country and delivering on commitments in the Programme for Government.
The issue of his leadership of Fine Gael has come into focus after it was raised at a parliamentary party meeting last week.
Fine Gael TD Brendan Griffin today called for a new party leader to be in place by September, adding that only a change in the Fine Gael leadership will avoid a general election in the autumn.
Speaking in Castlebar, Mr Kenny said his focus was always on securing the future of the country.
#Taoiseach says he's not going anywhere. Delivers message to any challengers in Castlebar this afternoon. pic.twitter.com/BxO9M6GDN9

— Pat McGrath (@patmcgrath) July 11, 2016
He said this was what the people expected of their Taoiseach and that "Fine Gael people around the country" expected the same and he intended to deliver on that expectation.
His focus, he said, was "entirely on the future" and said that "for those who might be interested", he would not be diverted from that task and that duty.
The Taoiseach said he would be travelling to Germany tomorrow to meet Chancellor Angela Merkel and discuss with her the close links between Ireland and Britain.
He said that Ireland faced a major challenge after the Brexit referendum and that the country would need support from other countries to explain in detail the unique relationship between Ireland and the UK.
Mr Kenny said he also expects to finalise a north inner city task force for Dublin in the coming days, an initiative that was set up after a number of murders in the area in recent months.
He said he expects to put in place the regulations for a Citizens' Assembly later this week, in order to review the issues surrounding the Eighth Amendment to the Constitution and has no intention of being distracted from that work, which he said he had received a mandate to fulfil.
Earlier, Minister for Education Richard Bruton warned against undermining the authority of the Taoiseach.
He said he believes the Taoiseach should decide in his own time when he will leave, but should not give an indication before that date.
Speaking on RTÉ's Morning Ireland, he said Mr Kenny's experience was needed as Ireland dealt with the impact of the UK's decision to leave the European Union, adding that British Prime Minister David Cameron's position has been totally undermined since he announced his resignation.
He also rejected the idea of a counter-motion to any possible proposal to move a motion of no confidence in Mr Kenny as party leader, saying: "No, I don't believe that dividing the party would be wise at all".
Meanwhile, Minister for Health Simon Harris said he does not believe the Taoiseach should set out a timetable for a departure.
He said this was a distraction and that the Government needs to get on with its body of work.
Speaking at the Mater Hospital ARC Cancer Support Centre, Mr Harris said he had "full confidence" that the Taoiseach will know when to have an orderly transition.
Minister for Foreign Affairs Charlie Flanagan said the Taoiseach enjoys his full support and that he witnessed Mr Kenny's leadership and work ethic on a daily basis.
Mr Flanagan said the experience and expertise of Mr Kenny was needed now, more than ever, to face the challenges posed by Brexit.
He said that the Programme for Government took a long time to agree and now it has been agreed on, efforts must be made to implement it and said he welcomed Minister for Transport Shane Ross's call last night for stability and calm.
The Government, he said, needed now to reaffirm that stability and that the Taoiseach has the capacity to lead it.
Griffin speaks of 'serious challenge' within Fine Gael
Earlier, Mr Griffin said Fine Gael cannot go into the summer without confronting this issue and said the vast majority of party members he has spoken to want it dealt with quickly.
In a hard-hitting statement to RTÉ News, he said a general election would spell the end for Mr Kenny who will try to avoid it at all costs.
Mr Griffin accused Fianna Fáil and the Independents of already taking advantage of this, and said this means Fine Gael is on course to seriously deviate from its core values and principles.
The TD said he does not trust Fianna Fáil not to "manufacture a reason for a general election during budget negotiations, most likely on an issue that would make Fine Gael look as bad as possible".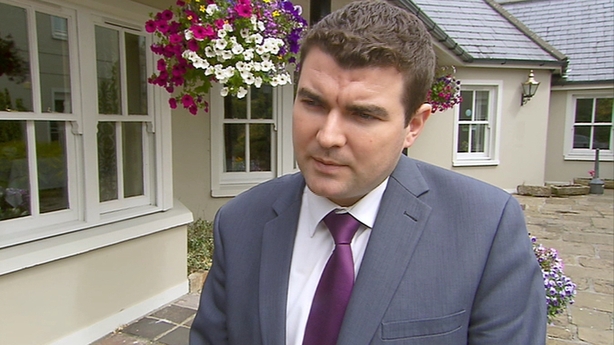 He feels that if his party had to choose a new leader during an election campaign Fine Gael "would be decimated and Fianna Fáil would most likely return to power in large numbers".
"I would have major fears for the progress we have made as a country in recent years in that event," he said.
Speaking later on RTÉ's Morning Ireland, Mr Griffin said: "At the moment we have a serious challenge within Fine Gael in that we have a leadership position that we're not certain about, that we don't have a timeline about.
"And I think our position is seriously weakened in Government as a result because our colleagues, and people in Opposition, know that we are simply not prepared for an election."
He said there is great concern about the future of the party and that Fine Gael is drifting.
There are a number of people within Fine Gael who would be capable as a successor, he said.
While giving no names he said there were a number of excellent potential leaders.
Mr Griffin has not indicated if he will raise a motion of no confidence in Mr Kenny but said there needs to be an in-depth discussion.
"This issue has not been properly confronted by Fine Gael. It was raised at the parliamentary party on Wednesday but there was no major discussion. Fine Gael needs to change and move on."
On Friday Government Chief Whip Regina Doherty called on Mr Kenny to clarify his intentions on how long he will remain as leader.
A meeting of Fine Gael TDs and senators last week also heard calls for the party to begin considering who will lead it after Mr Kenny steps down.
A number of backbenchers also discussed the matter in the media in recent days, and there was criticism of Mr Kenny's leadership for allowing Independent Alliance Cabinet members a free vote on the fatal foetal abnormalities bill.
Independent Alliance Minister of State Finian McGrath said there is a need for calm and for a focus on the Programme for Government.
He dismissed comments by Minister for Social Protection Leo Varadkar that members of the Independent Alliance destabilised the Government by voting for the abortion bill.
In fact, he said, the Independent Alliance was very supportive of the Taoiseach.
"This Government is unlike any other Government established since the foundation of the State. The traditional rules no longer apply.
"As far as I'm concerned we can have differences, we can have debates, we can have discussions and then get on with the main issues."
---