The annual 12 July parade in Rossnowlagh, Co Donegal, took place today - three days before the main demonstrations in Northern Ireland.
Fifty lodges from Donegal, Cavan, Leitrim and Monaghan, as well as visiting Orangemen, took part part in the parade which began close to St John's Church at noon.
The parade then went to the demonstration field on the edge of the shoreline.
The Donegal procession is renowned for its laid-back family atmosphere and low key security presence.
Lots of tourists and holidaymakers staying in the local caravan parks, joined by many newcomers, were among the large crowd of spectators.
A religious service was held at 3pm.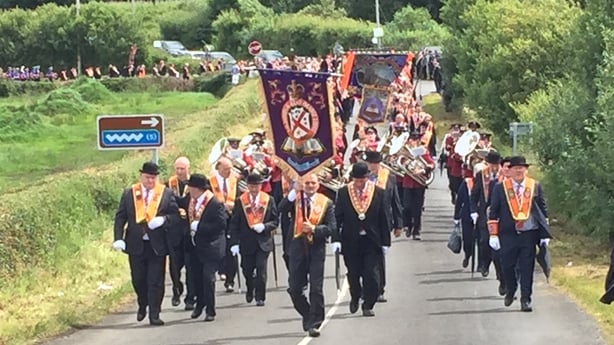 The sermon was delivered by Canon Mark Watson, Co Fermanagh Grand Chaplain. The main speaker was Lewis Singleton, Assistant Grand Master of the Grand Orange Lodge of Ireland.
Proceedings were chaired by the County Donegal Grand Master, David Mahon.
The 12 July parade in Donegal has been held in Rossnowlagh as far back as the 1900s and has taken place there every year since 1978.
There are 44 Orange halls in Donegal, Cavan, Monaghan and Leitrim and the Grand Orange Lodge of Ireland has members in nine counties in the Republic.