The thousands of Irish soldiers who died at the Battle of the Somme have been commemorated at two memorial events in Dublin.
President Michael D Higgins, Taoiseach Enda Kenny, Northern Ireland Secretary Theresa Villiers and Stormont Deputy First Minister Martin McGuinness were among those who marked the centenary of the battle at the Irish National War Memorial Gardens at Islandbridge.
And at Glasnevin Cemetery this afternoon, Minister for Public Expenditure and Reform Paschal Donohoe, British Ambassador to Ireland Dominick Chilcott (below) and Chairman of the Glasnevin Trust John Green led proceedings at a Victoria Cross commemorative stone unveiling.
Around 3,500 soldiers from across Ireland died fighting at the Somme.
The 36th Ulster Division, made up mainly of Ulster protestants, sustained huge losses at Thiepval on the first day of the battle while the 16th Irish Division, whose ranks were filled with nationalist Catholics, also endured major casualties when they joined the fight at Guillemont in September.
At the Irish National War Memorial Gardens, President Higgins laid a wreath on behalf of the people of Ireland.
Stormont's Democratic Unionist Economy Minister Simon Hamilton and Ms Villiers also placed wreaths at the cenotaph, as did ambassadors of the eight countries that fought at the Somme, including Germany.
Ms Villiers said she was honoured to represent the UK government at the "very special" commemoration.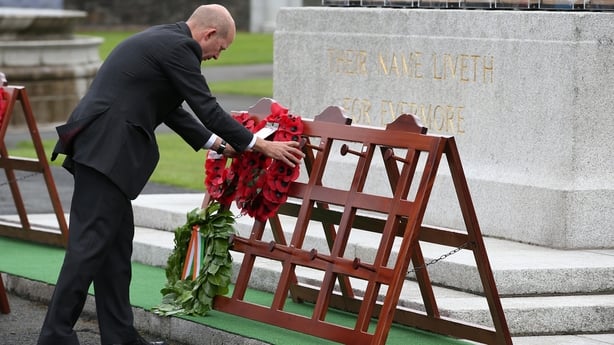 In Glasnevin, four memorial stones were unveiled in dedication to four Irish Victoria Cross recipients who served in the Battle of the Somme and the Battle of Jutland.
This was followed by a wreath-laying ceremony at the Commonwealth War Graves Commission Commemorative Screen Walls and the Cross of Sacrifice to remember the thousands of Irish soldiers who died fighting in World War One.
The Victoria Cross commemorative stones were unveiled in honour of Edward Bingham HMS Nestor, Eric Bell, Royal Inniskilling Fusiliers, William McFadzean, Royal Irish Rifles, and Robert Quigg, Royal Irish Rifles.
Last week thousands of people including relatives of fallen soldiers gathered in France for a service of remembrance marking 100 years since the start of the battle which claimed a million lives.
Almost 20,000 died within hours of leaving their trenches on 1 July 1916.
Army generals had hoped the battle would be short and produce a pivotal victory for Britain and France over Germany but the gains were negligible and the fighting waged on until November.
The year 1916 was of major historical significance in Ireland and, as such, 2016 has witnessed a number of important centenaries.
---