Government Chief Whip Regina Doherty has called on Taoiseach Enda Kenny to clarify his intentions on how long he will remain as leader.
Speaking on LMFM, Ms Doherty said to do so would allow the party "get back to normal".
Without a definitive timeline, she said Fine Gael TDs and senators will be giving a different opinion on the issue every week.
Minister for Social Protection Leo Varadkar, who topped a poll in today's Irish Times on who should succeed Mr Kenny, said there is no vacancy.
"Everyone in this Government, including me, has a lot of work to do and my focus is firmly on the department of social protection," he said in a statement.
"The Taoiseach has made clear he will not lead the party in a future general election. This means there will be a leadership election at a future date.
"That will be the appropriate time to deal with the issue of the leadership of Fine Gael. The vacancy won't arise until the Taoiseach decides it should."
The Ipsos MRBI poll for the Irish Times suggests Mr Varadkar is the most popular choice to become the next Fine Gael leader, followed by Simon Coveney and Frances Fitzgerald.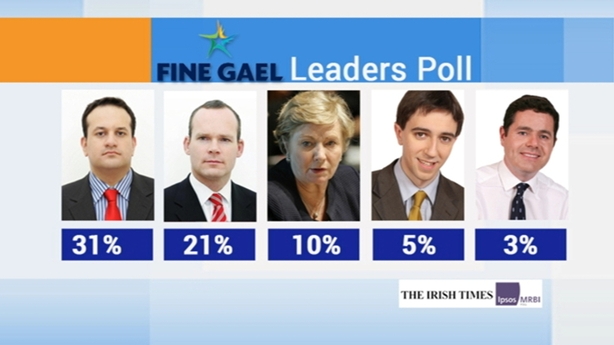 A meeting of Fine Gael TDs and senators earlier this week heard calls for the party to begin considering who will lead it after Mr Kenny steps down.
A number of backbenchers also discussed the matter in the media in recent days, and there was criticism of Mr Kenny's leadership for allowing Independent Alliance Cabinet members a free vote on the fatal foetal abnormalities bill.
Meanwhile, Simon Coveney said that Mr Kenny would remain Taoiseach "for some time to come" and that his "experience and steady hand" were important.
The Minister for Housing, Planning and Local Government said there was no leadership contest, and that he would "not dictate" to the Taoiseach as to when he should signal his intentions that he would step down.
Speaking to reporters in Brussels, Mr Coveney said: "There isn't a leadership contest in Fine Gael right now, there isn't going to be any time soon. The focus that I have and the focus that others in Government have and in Fine Gael have is ensuring that we have a Government that works for people."
He dismissed this morning's Irish Times opinion poll as "people trying to create a political storm" around leadership contests.
A spokesperson for Tánaiste and Minister for Justice Frances Fitzgerald echoed similar sentiments, stating the decision on when to step-down was one for the Taoiseach.
"The Tánaiste fully respects the Taoiseach's right to make that decision, as he has outlined already. It would be inappropriate to comment any further."
Elsewhere in Berlin, the Minister for Foreign Affairs Charlie Flanagan has said it is a time for cool heads and not a time for change in leadership.
He said Britain's decision to leave the EU is the priority for the Taoiseach and all government ministers at the moment.
Mr Flanagan was speaking after meeting with the German Foreign Minister in Berlin.
---
Analysis: Martina Fitzgerald, Political Correspondent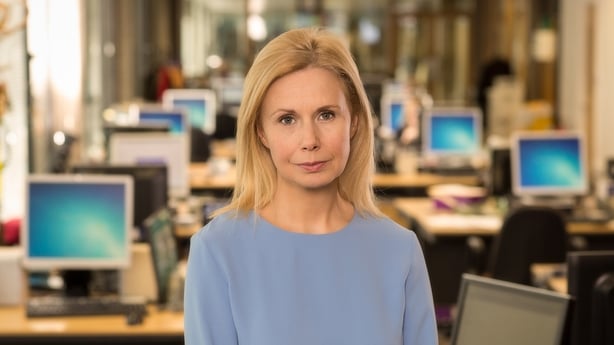 Regina Doherty's comments are very interesting because most of those who have come out at present looking for clarity on Enda Kenny's future are not people who got promotions when the last Government was appointed.
You could say that those people were passed over but Regina Doherty got a very big job - Government Chief Whip.
There is an irony that she was out complaining or seeking clarity about the Taoiseach today while people themselves were asking questions about her ability to do her own job as a Dáil debate was delayed earlier because not enough TDs turned up.
This comes on the back of the opinion poll in The Irish Times today looking at who should replace Enda Kenny and the clear frontrunner is Leo Varadkar.
But to put it into perspective: if it came to a leadership contest in the morning it is not the public that decides.
The Fine Gael parliamentary party would have a 63% say in it.
If a prospective candidate can win over the vast majority of the parliamentary party, they would have a big say and sway in becoming leader.
The Taoiseach has said that he does have a plan but I think most people are now saying at some stage he is going to have to clarify what it is.
---