Minister for Agriculture Michael Creed has said Ireland will not turn its back on the UK beef market, which he described as the "most lucrative" in the world.
His comments come as the Irish Farmers' Association accused beef processors of unnecessarily reducing prices in the wake of the UK vote to leave the European Union.
Speaking on RTÉ News at One, the minister said that while Irish farmers are facing issues arising from Brexit, he is working to ensure that Ireland's special dependence on the UK market is recognised. 
He said he is simultaneously working on new market access, to get Ireland into other lucrative markets.
IFA President Joe Healy said that meat factories have no basis to reduce their beef prices and encouraged farmers not to sell their beef at lower quotes. 
He said that farmers should hold off until factories reinstate what the market allows, adding that he is hopeful factories will realise that UK markets are strong and their prices are unjustified. 
Mr Healy called on Mr Creed to put in place adequate, or extra, resources to maximise and gain new markets for beef farmers across the world.
Earlier, he said a meeting with the minister at the Beef Forum later this month would be used to outline the financial pressure farm families were under this year as a result of lower prices, higher costs and reduced direct payments. 
Mr Creed said processors and farm leaders representing beef producers will sit down at the meeting to talk through all of the issues.
He said that the Beef Forum will be an opportunity to discuss the issues surrounding Brexit and sterling fluctuation.
Speaking on the issue of cost of finance to farmers, he said he is "exploring that space" to see how they might structure a package that would allow them make maximum use of the State aid rules that have been relaxed in terms of commission decisions. 
He spoke about what he described as a "very significant development" in the sector this week, in terms of further opening up the US beef market.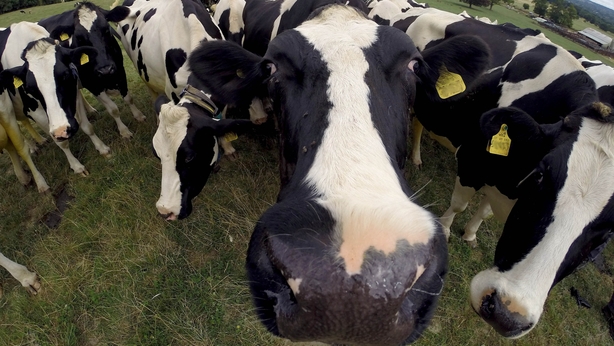 Macra na Feirme members working along the border with Northern Ireland have expressed concerns in the wake of the Brexit vote.
Thomas Duffy, a dairy farmer based in Cavan, said farmers were "very much in the dark" about the implications of the vote.
"A lot of suppliers come from the North and there are whole industries here built around the import and export of food.
"What happens if produce from Northern Ireland is no longer regarded as EU produce? It would render countless trade agreements meaningless."