Dublin Bus management and unions are attending the Labour Court in a bid to defuse a row over a pay claim of up to 31% for employees.
Unions are seeking a flat rate increase for all employees, payment of a 6% outstanding national wage round that was never paid, and a substantial hike for drivers to bring them into line with Luas drivers.
National Bus and Railworkers' Union General Secretary Dermot O'Leary said that the company's 3,300 employees had not had a pay rise since 2008 and had suffered pay cuts under one of a number of cost reduction programmes.
Arriving at the Labour Court, he noted that Dublin Bus is now back in profit, adding that it was time for a substantial increase for workers.
He acknowledged that the Labour Court would have a difficult task to resolve the dispute.
The issue of productivity, he said, would not be addressed until a flat pay increase for the general workforce was resolved.
Dublin Bus management will attend the Labour Court this afternoon to present its case in the pay dispute, including information on pay rates for all grades requested by the court at an earlier sitting.
The company has confirmed that while the accounts for 2015 have not yet been signed off, the company made a surplus of €11.6m in 2014.
€5.5m came from Dublin Bus commercial services and €6.1m from its public service obligation services.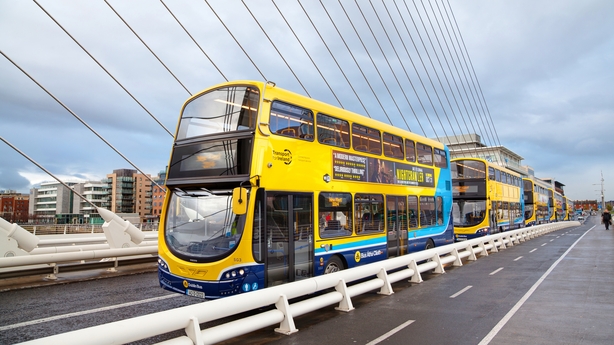 Asked whether it was ironic that unions were seeking a 31% pay rise at a time when a syndicate of drivers was collecting a Euromillions jackpot of over €23m, Mr O'Leary said that was a very good news story amid the doom and gloom of industrial relations.
He said the winners were all "30-year plus" men who had been loyal and dedicated employees and members of their unions.
All you could do was wish them well, he added.