Michael Gove has been eliminated from the race for the Conservative Party leadership, leaving Andrea Leadsom and front-runner Theresa May as the final two candidates.
Home Secretary Ms May topped the second round of voting, winning the support of 199 of her colleagues, while Energy Minister Ms Leadsom came second on 84 votes.
Mr Gove received 46 votes, eliminating him from the race.
Mr Gove said that he was "naturally disappointed" with the result, but said that his two rivals were both "formidable politicians" who deserved to be in the final run-off, and whichever of them won would "lead the country well".
150,000 Conservative members across the country will choose between Ms May and Ms Leadsom to become the new party leader - and prime minister - on 9 September.
Ms May said: "I am delighted to have won so much support from my colleagues. This vote shows that the Conservative Party can come together - and under my leadership it will.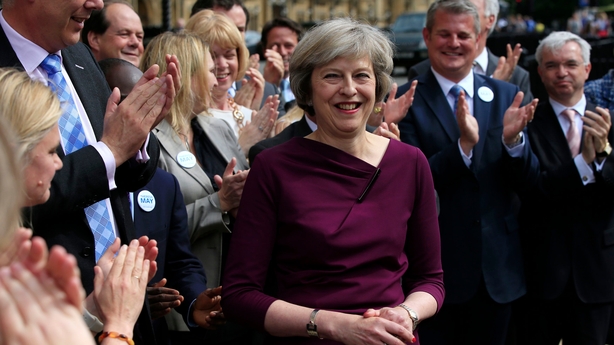 "I have said all along that this election needs to be a proper contest. And now it is time for me - and my team - to put my case to the Conservative Party membership.
"That case comes down to three things. Because we need strong, proven leadership to negotiate the best deal for Britain as we leave the European Union, to unite our party and our country, and to make Britain a country that works not for a privileged few but for every one of us.
"Those are the things my colleagues have voted for in overwhelming numbers today, and I am confident they will win the support of our members - and the support of the country as a whole."
Ms Leadsom's campaign chief Tim Loughton said the run-off represented a "quirky" choice for the Tories.
"They both went to state schools, they are both women, hey, that's pretty quirky for the Tory party. Isn't this the new sort of Tory party?"
Earlier, Mr Gove's team insisted he was kept in the dark about a plot to get supporters of Ms May to switch sides in order to block the surge of Ms Leadsom.
Mr Gove's campaign manager Nick Boles was forced into a humiliating apology after being caught pushing pro-May MPs to vote tactically to ensure Mr Gove made the final two.
Mr Boles apologised, claiming Mr Gove "did not know about it let alone authorise it. And it does not reflect his views."
The storm erupted after Mr Gove was confronted at election hustings over the texts sent by Mr Boles to scores of MPs.
The text said Mr Boles thought it was "overwhelmingly likely" Ms May would triumph, but he was "seriously frightened" that if Ms Leadsom made the final two she could connect with members in the way Iain Duncan Smith had previously.
The text said: "I am seriously frightened about the risk of allowing Andrea Leadsom onto the membership ballot.
"What if Theresa stumbles? Are we really confident that the membership won't vote for a fresh face who shares their attitudes about much of modern life, like they did with IDS?
"Michael doesn't mind spending two months taking a good thrashing from Theresa if that is what it takes to put the party's interest and the national interest, surely we must all work together to stop AL?"
When Mr Gove was challenged about the text at the hustings, a pro-May MP said he met the question with "a sort of giggle, and then he sat down. He didn't disown it, because so many MPs have received it, it is quite difficult to disown it."
Former Tory leader Mr Duncan Smith warned that Tory MPs "do not want to spend the whole time stabbing each other in the back".
The row exploded as Ms Leadsom published her CV in a bid to clear up controversy over her past business roles after it was claimed by opponents that she has been exaggerating her experience.
The hustings also saw her say that she would not release her tax returns, as other candidates have, unless she made the run-off.
The minister told MPs that they could come to see a summary of her tax affairs personally if they wanted to.
Referring to unguarded comments recorded by Sky News of Tory former chancellor Ken Clarke in which he referred to Ms May as "a bloody difficult woman", Ms May joked that the next person to take that view of her would be Jean-Claude Juncker, the European Commission president.