A new Irish Times/Ipsos poll suggests there has been a significant increase in support for Fianna Fáil since the party decided to back the minority Government, while there has been a large drop in support for Independents.
At 33%, the level of Fianna Fáil support indicated in the poll is the highest level recorded in an Irish Times survey for the party since the financial crash in 2008.
However, Independents saw a significant drop from 30% down to 22%.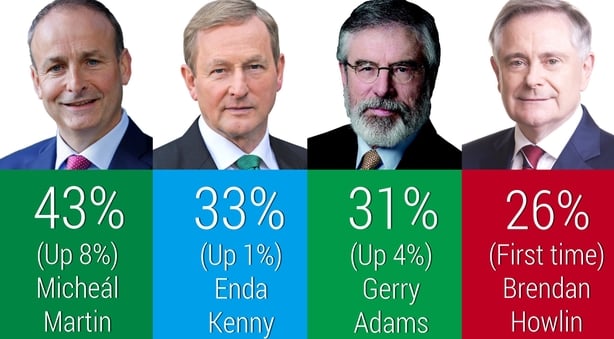 People surveyed on Monday and Tuesday this week were asked who they would vote for in a general election.
When undecideds are excluded, the results show that compared to February's general election result: Fine Gael is at 24% (down 2%), Fianna Fáil 33% (up 9%), Labour Party 5% (down 2%), Sinn Féin 16% (up 2%) and Independents/Others 22% (down 8%).
The margin of error is plus or minus 2.8 %.
The poll also shows that Fianna Fáil's Micheál Martin is easily the most popular of the party leaders, with a rating of 43% (up 8%), ahead of Taoiseach Enda Kenny 33% (Up 1%), Sinn Féin's Gerry Adams 31% (up 4%) and new Labour leader Brendan Howlin at 26%, which is the first time he has been surveyed.
Fianna Fáil's Willie O'Dea said while it was pleasant to see a rise in support for the party, it would not be changing its tactics and sees its job as helping the government provide stability in uncertain times.
Speaking on RTÉ's Today with Sean O'Rourke, the Limerick TD said Fianna Fáil was "putting on the green jersey" and helping the Government through "the choppy waters which no doubt lie ahead".
He said the party had a "near death' experience" in the 2011 General Election and that this is a very different Fianna Fáil.
Independent Alliance TD Sean Canney said people will not forgive Independents if they start to create instability.
He said the latest opinion poll was a reality check for all the independents and they needed to take heed of it, adding that the aim was to keep stability in the Government and the country.