The mood was somewhat subdued at the European Parliament media briefing today, writes Ailbhe Conneely of our political staff.
It appears journalists across the EU are still coming to terms with Britain's decision to leave the European Union.
Mondays are usually quiet at the Strasbourg plenary as participants make their way from all corners of Europe.
With the Euros (the soccer that is) however passport control at Charles DeGaulle Airport was a nightmare.
Queues can, however, often lead to chat and when the UK businessman behind me stated that it would have been easier driving through the Channel Tunnel, we ended up weaving through the cordon, politely discussing Brexit and the EU.
Both of us had been refused entry through the biometric passport booths (you now have to register somewhere in Charles De Gaulle to use them) and so, queuing companion used it as example of the "waste of money" and resources the EU had at its disposal.
Exhibit A: the empty biometric passport booth, he said.
I pointed out that he might soon be standing in the "all other passports line" - which was far longer than the EU passport line into which we were packed.
"It's all scare mongering", he said.
The Lancashire man proceeded to outline how Europe needed Britain more than Britain needed Europe.
"Britain put more into that EU budget than it got out", he continued.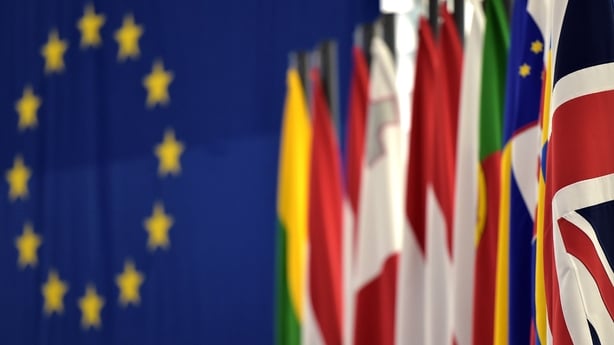 Ears pricked around us as Irish passport holders, British passport holders and non-EU passport holders leaned in their respective queues to hear the conversation.
"Ye wouldn't like to see trade between Northern Ireland and southern Ireland affected", he said. "That's gonna need a bit of working out though".
We discussed the UK Labour Party, the Tories, the Liberal Democrats, the lot.
We even discussed capital cities. He stressed that London was not the UK.
"It's just not", he shrugged.
And with that the queue split.
We said our goodbyes and went our separate ways.
Six hours later, I was sitting at a media briefing in Strasbourg thinking about my earlier encounter.
Media director and European Parliament spokesperson Jaume Duch Guillot pointed out that this week's plenary will be the first compete session following the UK referendum but he moved on because European Parliament life and legislation continues.
Journalists politely scribbled and typed.
Last week's European Council meeting would be discussed .
Also on the agenda: a briefing following the Dutch presidency of the EU and recommendations from a committee on EU Borders and Coastguard, to mention but a few.
There will be a break for August, and while much can happen in a month, parliamentary proceedings continue as "normal".
Heads in the media room auditorium reflected the mood - they were down.
"Any questions?", Guillot asked. "Yes. The lady up the back". She was wearing sunglasses in the fluorescently lit room.
"We hear Nigel Farage is standing down, have you any more information on that?"
"No, but he will be here this plenary and is expected to hold a press conference Wednesday if you wish to pose a question".
The lady shrugged.
And with that the briefing ended.
"Have a great plenary", we were advised, or told, depending on who you ask.
Nothing to see here ... but it is only Monday.
---
Ailbhe Conneely, RTÉ political staff