The RTÉ Investigations Unit has seen extracts of a draft copy of the HSE audit into the finances and governance of the charity Console.
The audit reveals details of how chief executive Paul Kelly, his wife Patricia and their son Tim benefitted by almost €491,649 in salaries and cars between 2012 and 2014.
A further €464,777 was spent by the three Kellys during that period on Console credit cards for items including groceries, designer clothes and foreign trips.
The total declared income for Console for the 2012-2014 was €4,990,000.
Between them Paul, Patricia and Tim Kelly used 11 credit cards over the three-year period.
The cards were used for large cash withdrawals, trips to Australia, New Zealand, Singapore and other destinations, designer clothing in outlets such as Ralph Lauren and Hugo Boss, dining out, Rugby World Cup tickets and dental work.
Last Thursday, the RTÉ Investigations Unit revealed evidence of serious concerns around the handling of Console's finances, inappropriate payments to directors, the use of multiple sets of accounts with alterations and deletions sent to different bodies.
The board of the charity set up an independent external review of issues raised.
The report also revealed the use of differing dates of birth for the same person and with directors signing documents using married and maiden names.
The unit also revealed that a HSE internal audit had taken place which has now completed a draft report.
The report found evidence of large amounts of money being withdrawn or spent from Console accounts over a three year period from 2012 to 2014.
The HSE audit does not reach a conclusion on what proportion of the spending it regards as questionable.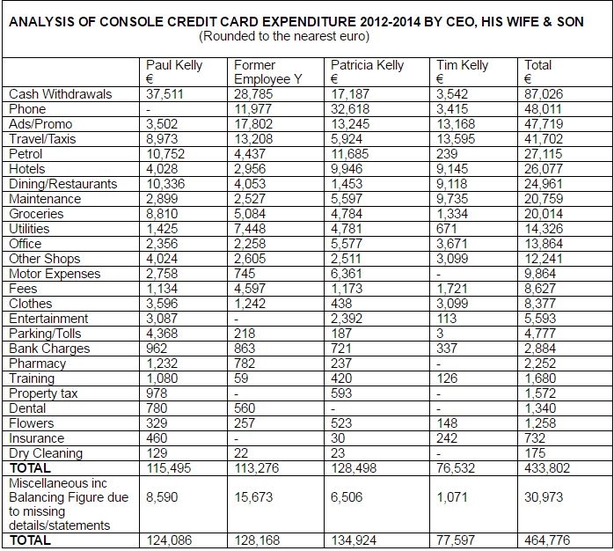 Paul Kelly received consultancy payments of €218,586, plus a fully-expensed 2009 Mercedes CLS costing €30,600 and four credit cards between 2012-2014.
Ms Kelly received salary payments €67,149, plus a fully-expensed 2010 Audi Q5 costing €57,000 and four credit cards.
There were no contracts or board approvals for the payments for the CEO or his wife.
Inconsistent and vague explanations were provided to the internal audit about Patricia Kelly's car.
Of 20 credit cards registered to Console, 11 were held by the three Kellys.
The expenditure on these 11 cards was €464,777, representing 63% of total credit card expenditure.
Cash withdrawals totalled €87,027. There was no documentation to identify how these cash sums were used.
Inconsistent, vague and inaccurate information was provided to the audit about the identity of the person named as the credit card holder.
€71,460 was spent on credit cards primarily by Paul Kelly on foreign travel to Australia, New Zealand, Hong Kong, Singapore, Madrid, Barcelona, Rome, Tenerife, Nice, Paris and London.
There were inaccurate records to identify the full extent of foreign travel expenditure.
The trips to Australia and the Far East occurred around Christmas and New Year in 2012 and into 2013.
Large and frequent cash withdrawals by credit card were made on these foreign trips.
€24,659 was spent on credit cards to purchase groceries. Of this, €20,013 was incurred by Paul Kelly (€13,895), Patricia Kelly (€4,784) and Tim Kelly (€1,334).
Credit Cards were used to spend €8,377 on designer and other clothing. There were 58 transactions on clothing at 22 retailers. Tim Kelly incurred €3,099 of this expenditure.
Examples of the outlets where clothes were bought include Ralph Lauren, Hugo Boss, Moss Bros, Bershka, Coast, River Island and Top Shop.
There was no evidence that clothing expenditure was subject to benefit in kind taxation.
During the audit, different explanations were provided by Console for individual clothing transactions.
For example, expenditure in Moss of €358 was described by Console as being "clothing for poor family" and "Console fund raiser."
A clothing allowance policy was provided by Console during the audit to the audit team. It was dated 2010, however the electronic properties of the document identified that it had been created hours before it was emailed to the internal audit.
Rugby World Cup and Netflix
€2,083 on 2015 Rugby World Cup tickets was spent on Patricia Kelly's credit cards. Console told the audit team that these tickets were raffled for fund-raising purposes.
Documentation was not provided by Console to support this.
Ticketmaster, Tower Records and HMV spending totalling €2,162 appear on credit cards held by Patricia Kelly and Paul Kelly, including the cards in the name of the former employee, Y.
Documentation was not available to support the purpose of this spending.
Cinema, Netflix and sightseeing credit card spending of €313 was incurred by Paul and Tim Kelly.
Serious governance concerns
The audit notes that there were inadequate governance structures during the period under audit. Console was controlled and dominated by Paul Kelly, who was responsible for the full running of the charity.
He continued to operate as a shadow director even after he resigned as a director in 2013. Auditors encountered significant difficulties obtaining information and explanations.
Explanations when received were inconsistent and vague.
Console UK concerns
In May 2012, Paul and Patricia Kelly established a separate company in England to operate Console UK.
Its directors are Paul, Patricia and Tim Kelly and another unrelated person.
Tim Kelly also runs Console UK as director of services, reporting to this father.
Significant issues were identified in relation to Console Ireland and Console UK. Console Ireland incurred expenditure in excess of €140,000 in relation to Console UK between 2012 and 2014.
This was not disclosed in either Console Ireland's audited financial statements or in Console UK's accounts.
In essence, Irish funders and donors are funding a UK charity.
As director of services, Tim Kelly is paid a salary of sterling £31,300. This is paid by Console Ireland directly to him at a rate of sterling £600 per week and it is not taxed.
Revenue liability issues
Significant taxation issues were identified through the audit, for example salary payments made to Paul Patricia and Tim Kelly were not subjected to PAYE and PRSI payroll taxes by Console.
Potential benefit in kind implications arise from the use of company cars by the CEO and his wife. Potential taxation implications arise from the use of company credit cards held by the three Kellys.