The risk of secondary schools experiencing closures from September has increased after the Association of Secondary Teachers in Ireland voted to instruct members to cease working the 33 unpaid hours introduced under the Croke Park Agreement on public sector pay.
However, the ASTI Standing Committee has decided to accept an invitation from Minister for Education Richard Bruton to discuss "issues of concern".
ASTI members have rejected the Lansdowne Road Agreement which comes into force on Friday and have also voted to withdraw from working the additional hours imposed under a previous agreement.
The union will now issue a formal directive to members to withdraw from the hours, which it argues are unproductive and impact negatively on teaching.
Speaking in the Dáil this afternoon, Mr Bruton said it was "very disappointing" that the ASTI withdrew from the LRA.
However, he welcomed the union's acceptance of an invitation to talks.
ASTI President Máire G Ní Chiarba said teachers had experienced a significant deterioration in their working conditions in recent years, with young and newly-qualified teachers disproportionately affected due to the introduction of new pay scales and pension arrangements.
She noted that many of those teachers were unable to obtain secure employment, or to earn a full salary.
The Garda Representative Association and the Association of Garda Sergeants and Inspectors have also rejected the LRA.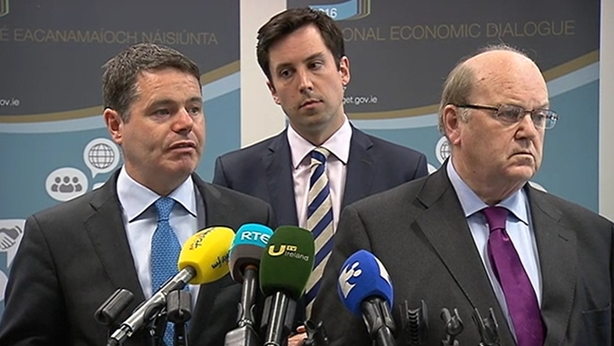 Earlier, Minister for Public Expenditure and Reform Paschal Donohoe reiterated that unions rejecting the LRA will lose its protections from Friday - which means that members due a pay increment from Friday will not receive them.
The minister said he had a duty to respect the decision of the 280,000 public servants who had signed up to the agreement.
Yesterday the GRA opted not to return to talks on the LRA, while the AGSI leadership will meet tomorrow to consider its position.