Embattled British Labour Party leader Jeremy Corbyn has appealed for "unity" as he appeared before supporters at a rally in Westminster, telling them: "Don't let the people who wish us ill divide us."
The veteran left-wing politician has come under increased pressure having lost half of his shadow cabinet amid concerns from senior party members about his ability to challenge for government.
Speaking from the top of a fire engine in Parliament Square, central London, Mr Corbyn said: "Don't let the media divide us. Don't let the people who wish us ill divide us.
"Stay together, strong and united for the kind of world we want to live in."
Organisers claimed about 10,000 people attended the rally, organised within 24 hours and including speakers such as new shadow health secretary and long-time Corbyn ally Diane Abbott.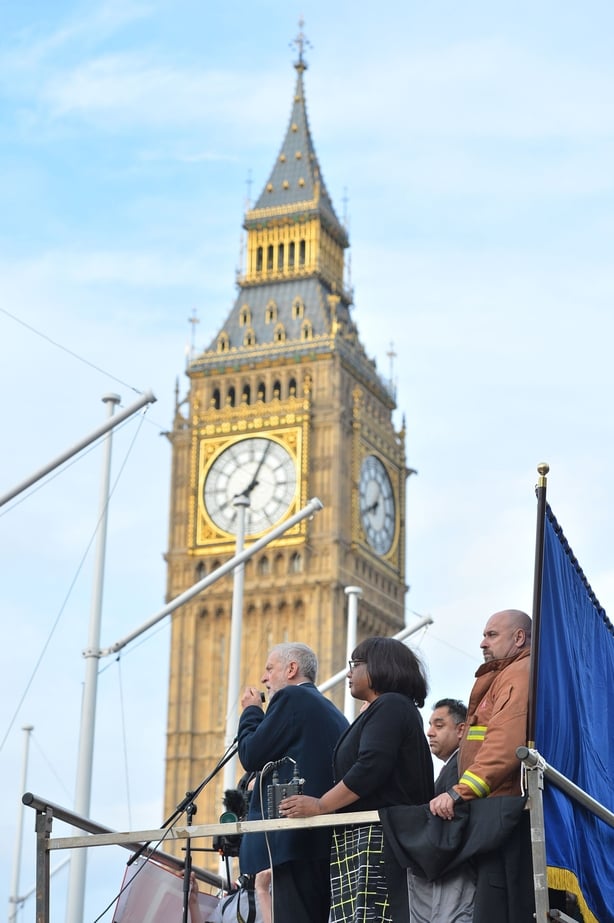 Addressing the crowds straight from a meeting of the Parliamentary Labour Party, Mr Corbyn was mobbed by supporters, police and photographers as he made his way to the impromptu speaking platform.
Making no mention of the alleged coup against his leadership, Mr Corbyn said: "Can we all agree we are going to unite together as one people, one society, one community, to oppose racism?
"And recognise that the grotesque exploitation of workers on zero hours contracts in factories around Britain ... shows we don't need the blame culture, we need the unite culture of working together for the social justice to which we all aspire."
Earlier, shadow chancellor John McDonnell told the crowds Mr Corbyn would stand for re-election should his position be formally challenged.
Mr McDonnell said: "Let me say this, let me make this absolutely clear to you. Jeremy Corbyn was elected only nine months ago with the biggest mandate any elected leader has had from the rank and file membership of their party. The biggest. We call that democracy.
"What we've seen over the last few days is a small number of MPs seeking to undermine the democratic decisions of the Labour Party members and the Labour and trade union movement.
"Let me make it absolutely clear. Jeremy Corbyn is not resigning, he's staying."
He added: "If there's a leadership election, Jeremy Corbyn will be standing again and I will be supporting him."