President Michael D Higgins has met Scottish First Minister Nicola Sturgeon as part of a four-day visit to Scotland.
Following the meeting, Ms Sturgeon said she would be looking to have conversations with countries like Ireland as it begins to explore options to stay in the EU following the British vote to leave the bloc.
She said Ireland was an important friend to Scotland and she looked forward to strengthening links between the countries.
Scotland, a nation of five million people, voted to stay in the EU by 62% to 38% in Thursday's referendum, putting it at odds with the United Kingdom as a whole, which voted 52% to 48% in favour of an exit from the bloc.
Ms Sturgeon repeated that the Scottish Parliament would not consent to legislation that gave effect to Brexit and put Scotland outside the EU.
She said she will ask Parliament tomorrow to give her a mandate to look at all the options to keep Scotland within the EU.
President Michael D Higgins and Scotland First Minister Nicola Sturgeon meet in Glasgow @rtenews pic.twitter.com/k1GHOtWybu

— Mícheál Lehane (@MichealLehane) June 27, 2016
President Higgins said the discussion focused on several measures to increase co-operation between Ireland and Scotland.
This visit was scheduled long before the Brexit result.
Asked if he was disappointed at the Brexit referendum result, he said that he is concerned for the future of the EU and this was a matter for all the member states and not just the founding ones.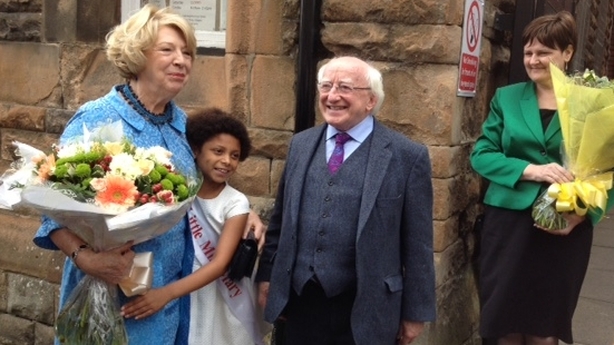 The visit got under way this morning when the President addressed some members of the Irish community in Glasgow.
He told those gathered at the Govanhill Neighbourhood Centre that the cultural links between Ireland and Scotland date back over 1,400 years.
Over the next few days, President Higgins is likely to focus on Ireland and Scotland's intertwined history and the central place of human rights in meeting future challenges.