German Chancellor Angela Merkel this evening said she agreed with the leaders of France and Italy that there would be no talks on future relations with Britain until after it formally notifies the EU of its plan to leave the bloc.
Ms Merkel said after talks in Berlin with French President Francois Hollande and Italian Prime Minister Matteo Renzi that "we agreed on this, that there will be no informal or formal talks on the exit of Britain until an application has been filed to leave the European Union".
Ms Merkel added that Germany, France and Italy will push for a "new impulse" for the EU.
"We will suggest to our (EU) colleagues that we should put in place a new impulse ... in the coming months," she said, adding that areas in which a new push would be made included "defence, growth or jobs and competitiveness".
French President Francois Hollande added: "We must not lose time, neither for dealing in a suitable way with the question of the United Kingdom's exit, nor for providing a new impetus for the EU."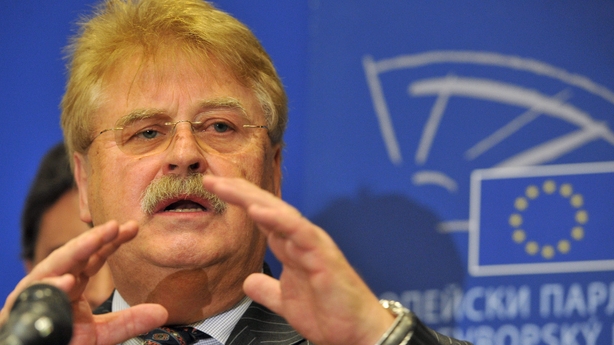 Chairman of the European Parliament Committee on Foreign Affairs Elmar Brok earlier said Britain should trigger the process to exit the EU sooner rather than later as no-one can live with two years of uncertainty.
Speaking on RTÉ's News at One, Mr Brok, who is German, said the treaty for future relations with the UK can only happen "as a third country".
Mr Brok said the EU had done everything to keep the UK on board, but he now believes the decision of the UK has to be taken seriously.
He said many people in Britain are beginning to understand "that the Brexit camp were lying to them and they were not really informed about the consequences".
He said the UK "can't have another extra deal. They already have hundreds of extra deals, the British" and he added: "We can't have a union where some countries carry all of the obligations and others only the advantages. Britain has to understand."
He said the 73 members of the EU Parliament who are from the UK will remain there, as long as Britain is formally a member of the European Union.
He said most of those 73 MEPs "are not very happy about this; they see now the consequences".
Referring to the young people in Britain who voted to remain, he said: "Those people are angry, because there's a feeling they were betrayed by the campaign."
Dutch Prime Minister Mark Rutte, meanwhile, has called for Britain to make a gradual transition out of the European Union.
He said the vote for Brexit had triggered a political and economic crisis that threatens the rest of the bloc.             
Rutte's comments to parliament in the Netherlands, which holds the rotating European Union presidency, came on the eve of a European Council meeting in Brussels.             
"It would be unwise to force a rapid departure. It would be prudent to give Britain time," he told parliament.
"There is a serious economic problem that could hurt the financial position of Britain and have consequences for the rest of Europe."             
He said he preferred the process to happen "as soon as possible" but did not give a time frame.             
British companies have stopped investing and London risks losing its strong financial position, with banks considering relocating to other European cities, he said.
---
Britain's complicated relationship with Europe