The Taoiseach will outline Ireland's concerns, in the wake of the UK referendum, to his counterparts at the meeting of EU leaders in Brussels this week.
At this week's EU council meeting Enda Kenny is to lay out key priorities such as: maintaining trade with the UK; guaranteeing free movement of people between the UK and Ireland - and across Ireland - and maintaining the relationship with the Northern Ireland Executive.
Sinn Féin leader Gerry Adams said the Government must act in the national interest when dealing with the consequences of Brexit but that meant looking after the interests of both parts of Ireland and not just the Republic.
When asked if he agreed with suggestions that Ireland might act as mediator or even an ally of the UK during negotiations, he said he would not be against that if it was in Ireland's interest.
He said one thing he had always admired about the British government was that it always put Britain's interest first and that the Irish Government must do the same for Ireland.
He added that Sinn Féin had long argued for reform of the EU and that there is now an opportunity for reform.
Meanwhile, the Minister for Public Expenditure Paschal Donohoe said the Government's financial plan will not be affected this year or next.
"We're putting on a realistic face [in relation to Brexit]. Across 2016 and the budget for 2017, because of the progress we have seen in our economy, we're confident that our plans are credible," Mr Donohoe said.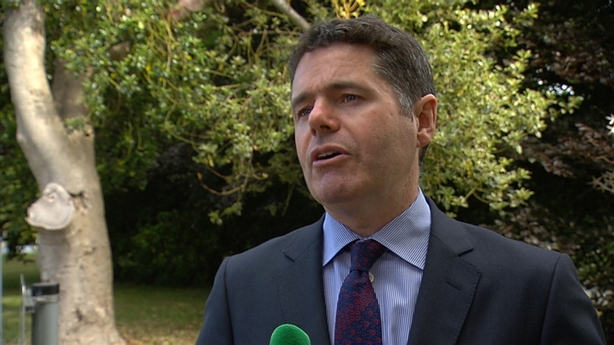 "This year we will have to borrow €1.15bn. So the very reason our country had to go through such difficulty to get our national finances under control was to get us to a point where we have a low borrowing requirement and a falling debt, so we're in a position to respond back to these shocks.
"The other reason why this confidence is there is that we have seen Irish companies, in response to changes in our domestic economy, diversify rapidly with support from the Government and we will do the same again in the coming years," added Mr Donohoe.
Elsewhere, Fianna Fáil spokesperson on European Affairs and the EU Single Market, Seán Haughey, said that we must work towards rebuilding European solidarity and cohesion.
"It is clear that this is an unprecedented challenge for Europe, the scale of which is at present unknown and unclear," said Mr Haughey.
"However, while it is evident that Europe is in need of reform, we should use the outcome of this referendum as an opportunity to re-establish European values and ideals to create a union that lives up to the principles upon which it was founded."