Scotland's First Minister Nicola Sturgeon has said it is "democratically unacceptable" that Scotland would be taken out of the European Union "against its will".
She said she will take "all possible steps and explore all options" to secure Scotland's continuing place in the EU and the option of a second referendum on independence is on the table.
Ms Sturgeon said the Scottish parliament will begin to prepare the legislation required to enable a second independence referendum to take place.
She added that many people who voted against independence in 2014 are now reassessing that decision.
All 32 local authorities in Scotland delivered a vote for Remain, with 62% of Scots voters backing staying in the EU and 38% opting for Brexit.
Ms Sturgeon said earlier: "Scotland has delivered a strong, unequivocal vote to remain in the EU and I welcome that endorsement of our European status.
"While the overall result remains to be declared, the vote here makes clear that the people of Scotland see their future as part of the European Union."
Britain votes to leave EU in historic divorce
Foster says NI's place in UK is safe
Northern Ireland First Minister Arlene Foster has insisted Northern Ireland's place in the Brexiting UK is safe despite the region voting for Remain.
Ms Foster, who campaigned for an EU exit, said she was "absolutely certain" the constitutional status was secure and claimed the Union was stronger after the Leave vote.
Her comments come after Sinn Féin said the result of the referendum should trigger a border poll.
In Northern Ireland 440,707 (56%) people voted to Remain and 349,442 (44%) to Leave.
Of the region's 18 constituencies, 11 voted Remain and seven voted Leave.
A border poll can only be called by the Northern Ireland Secretary in circumstances where there is clear evidence of a public opinion swing towards Irish unity.
NI Secretary Theresa Villiers said she did not believe the criteria for triggering a border poll had been met.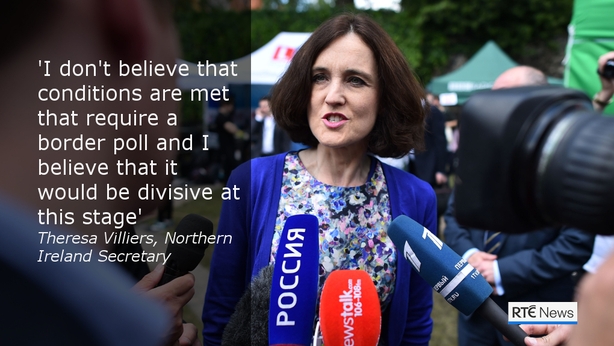 Speaking on RTÉ's Morning Ireland, Northern Ireland Deputy First Minister Martin McGuinness said the case for a border poll has been strengthened by the Brexit vote, saying "we are now in uncharted waters."
He said the UK now has no democratic mandate to represent the view of the people in Northern Ireland in the EU.
He said the vote had "nothing to do with what is best for the people of the North" and has implications for all of us.
Mr McGuinness said it is a very serious situation for Northern Ireland, especially in relation to economic development.
Earlier, Sinn Féin's national chairman Declan Kearney said the question of Northern Ireland remaining as part of the UK had now been brought into sharp focus.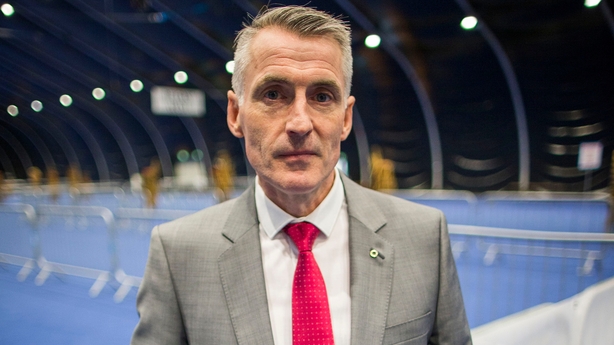 "We have a situation where the North is going to be dragged out on the tails of a vote in England," he said.
"That is a huge democratic deficit for our society, building on the existing democratic deficit of partition.
"The British government have now forfeited its mandate to represent the north of Ireland in relation to the European Union."
He added: "We now have a situation where Brexit has become a further cost of partition, a further cost of the Union and Sinn Féin will now press our demand, our long standing demand, for a border poll."
Mrs Foster rejected the Sinn Féin demand, saying: "The call for a border poll was as predictable as the flowers in May.
"We knew it would come but the test has not been met so therefore I don't believe it will happen."
The DUP leader added: "I think we are now entering a new era of an even stronger United Kingdom.
"I am very much looking forward to working with our colleagues in our national government to build a very strong, outward-looking UK moving forward and of course Northern Ireland as a very key constituent part of that."