The issue of problem seagulls has landed on the Seanad agenda again, writes Mícheál Lehane of our political staff.
Two years ago Senator Ned O'Sullivan sent the media into a flap with his declaration that the birds had lost the run of themselves.
Fine Gael Senator Paul Coghlan has now swooped into the Oireachtas battle with the birds.The seagulls were wreaking havoc with their beaks in Dublin city centre where they are destroying plastic bags of litter, Mr Coghlan said.
Senator says problem seagulls don't understand when it's bedtime https://t.co/biCLcmGKsj
@rtenewshttps://t.co/E355Gl5oR9

— Conor McMorrow (@ConorMcMorrow) June 22, 2016
He said he witnessed this in two locations close to Leinster House last night with litter strewn "all over the place".
"This is terrible in the capital city. I thought it was disgraceful as tourists walked around the place after 11 o'clock last night," he said.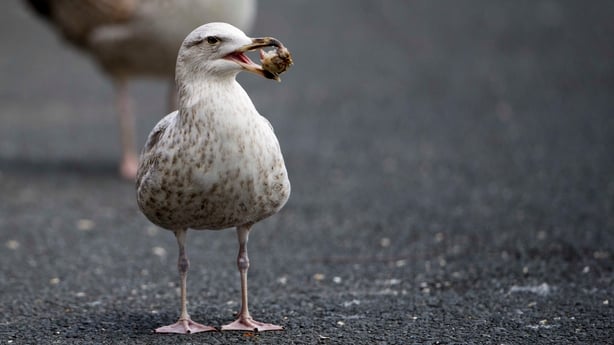 These birds would "hardly move out of your way; they are perched on ledges ready to swoop", he added.
He also said that unlike other birds they do not seem to understand when it is bedtime.
He called for a "repulsive spray" to be used to keep the birds away from bags of litter.
Responding to Senator Coghlan's comments, leader of the Seanad Jerry Buttimer said: "Senator Coghlan raised the issue of seagulls. I don't know what minister I will bring in to have discussion on that but I think the issue you raised is a health one, an environmental one, a tourism one and an economic one.
"So I would be very happy to characterise all of them into one."