A heated debate between both sides in the UK's European Union referendum has taken place in front of a 6,000-strong audience at London's Wembley Arena with panellists answering questions on the economy, immigration and Britain's place in the world.
First off former London mayor Boris Johnson said European countries would be "insane" to impose taxes on British exports if the country leaves the EU.
In front of a boisterous crowd for the BBC's showpiece referendum debate, Mr Johnson insisted it was "extraordinary" to suggest European Union countries would impose tariffs on British goods.
He said the UK buys so many products from Europe that the countries that sell them would never erect trade barriers.
Mr Johnson was appearing alongside fellow Leave campaigners in Conservative MP Andrea Leadsom and Labour MP Gisela Stuart.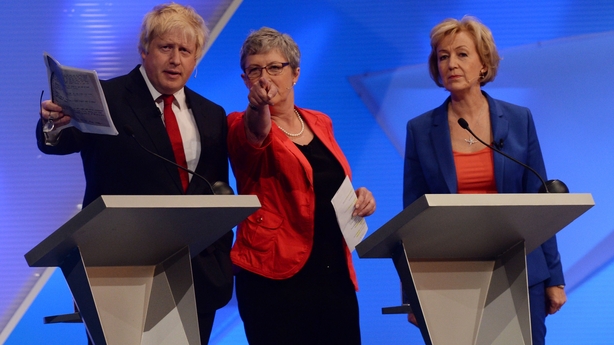 London mayor Sadiq Khan, Scottish Conservative leader Ruth Davidson and TUC general secretary Frances O'Grady were making the case for Remain.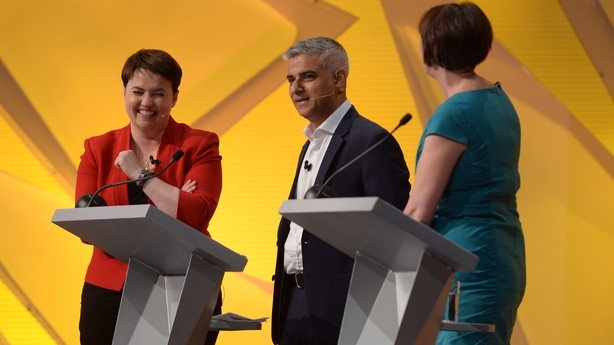 As the two sides clashed over the economy, Mr Johnson drew cheers from the crowd.
"I must say that I think that it was extraordinary to hear that we would have tariffs imposed on us because everybody knows that this country receives about a fifth of Germany's entire car manufacturing output - 820,000 vehicles a year.
"Do you seriously suppose that they are going to be so insane as to allow tariffs to be imposed between Britain and Germany?"
Hitting back, Mr Khan claimed Vote Leave's own chief economic adviser predicted manufacturing would be "eliminated" in Britain if it left the EU.
The debate was the final major TV event before voters go to the polls on 23 June, with the final campaign day Wednesday.
'Stronger, safer and better off in Europe'
Earlier, the London mayor urged voters to "follow the evidence" and vote for Remain because families will be better off, prices will be lower, jobs more secure and workers' rights protected.
Making his side's opening statement, Mr Khan said: "As a lawyer I learnt to listen to the experts and follow the evidence.
"Well the evidence is undeniable and all the experts agree - we are stronger, safer and better off in Europe.
"Even those who want us to leave admit that it's a big gamble and if there's one thing you should remember when you go to vote it's this - if we as a country decide to quit then we are out for good, there's no going back.
"Being outwards and looking at forming alliances is what makes our country so great.
"So I urge you to make the positive and patriotic choice and vote Remain."
The crowd erupted in boos as union chief Ms O'Grady said that Brexit could cause steady and well-paid jobs to be lost, and spur on the growth of zero-hours contracts at employers like Sports Direct, which has come under heavy criticism for the poor treatment of its workers.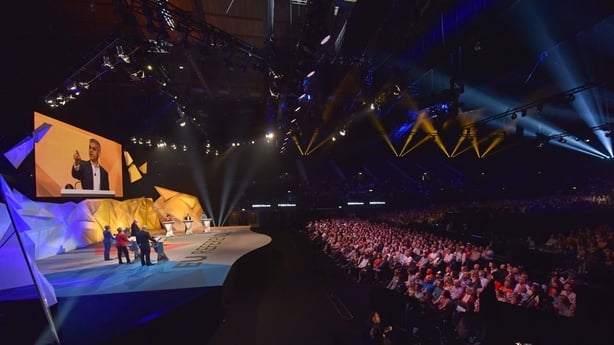 She said: "When we talk about wages, the TUC has looked at all the hard evidence and what it shows, what we can see, is that in the long run, because our economy would be hit, good jobs like the ones in BMW and the car factories would be replaced by worse ones like Sports Direct and zero hours, and Wetherspoons for that matter."
Loud boos nearly spread through the crowd, but it is unclear if this was directed at the companies she mentioned or at her comments.
Tensions between the panel members quickly rose as Labour and Conservative politicians turned on party colleagues on the other side of the debate.
Ms Stuart said it was "extraordinary" that British voters were being told they need Brussels to defend workers' rights.
She said: "The Euro is a broken project, you are going to bail out of your taxes one bailout after another."
Her party colleague London mayor Mr Khan accused Ms Stuart of being "so wrong" and said her Brexit colleagues have a long tradition of voting against workers' rights.
Brexit campaign 'hasn't been project fear, it's been project hate'
As the debate moved on to immigration, Mr Khan accused Mr Johnson of running a campaign of hate against migrants, and drew howls of protest after praising British Prime Minister David Cameron's renegotiated deal with the EU.
"Immigration has brought huge economic, cultural and social benefits to our country," Mr Khan said.
"EU migrants - over 130,000 work in the NHS and social care, thank you.
"EU migrants - working in our schools and our construction sector, thank you.
"More than 1.5 million Brits are employed by companies owned by EU citizens here, thank you.
"And the problem is this Boris, you might start off by saying how wonderful immigration is. But your campaign hasn't been project fear, it's been project hate as far as immigration is concerned."
Mr Johnson criticised Mr Khan - pointing out the current London mayor had previously said that those concerned about immigration should not be accused of prejudice.
The Tory MP said: "I do agree with Sadiq, I think you need a grown-up approach to this, I'm passionately a believer in immigration, but it's got to be controlled.
"When you've got numbers running at 184,000 net from the EU, 77,000 coming without even the offer of a job last year, it's obviously time to take back control."
But Mr Khan said Leave campaigners were scaring people into voting for Brexit by telling "lies", such as claiming Turkey would soon join the EU.
He slammed a taxpayer-funded "scaremongering" leaflet from Leave campaigners showing Turkey on a map, but only naming neighbouring countries Iraq and Syria.
"That's scaremongering Boris, you should be ashamed," he said.
"You are using the ruse of Turkey to scare people to vote to Leave, you and I both know there's no chance of them joining the EU."
EU - A 'job destroyer engine'
The Brexit backers rounded on the EU, with Ms Leadsom pouring scorn on the ability of the EU to negotiate trade deals, saying that "28 member states cannot even organise a take-away curry".
Mr Johnson branded the EU "a job destroyer engine, you can see it all across southern Europe and you can see it alas in this country as well".
He said Britain has been unable to protect at-risk steel jobs partly because of EU rules.
He said: "We cannot cut our energy costs to protect jobs in Port Talbot because Brussels says no."
But Mr Khan accused his predecessor of telling "a lie" and presenter David Dimbleby intervened to tell the pair to "calm down".
The diminutive London mayor added: "When you are five foot six it is not often you say size matters, but size matters because the bigger you are the more clout you have got. The idea smaller countries can negotiate better deals than the European Union is rubbish."
And as Mr Johnson hit out at the lack of democracy in the EU and its poor track record at negotiating trade deals, Ms Davidson tried to interject with a question, telling him "it is not the Boris show".
'Take back control'
The Leave campaigners repeated their slogan "take back control" in many of their answers and it was eventually met with groans from sections of the audience as Ms Leadsom used it during the section on immigration.
Later, the Conservative minister sought to highlight the "legitimate concerns" on immigration.
"The Bank of England has been very clear in its report that uncontrolled immigration has had downward pressure on wages in this country," she said.
"There are people who simply haven't had a pay rise for years.
"And not only that, but every family in this country knows how difficult it is to get the primary school place of your choice, to get a doctor's appointment, and yes to afford rents and to get on to the housing ladder.
"These are the really legitimate concerns and the way to get over that is by voting Leave and taking back control."
But Mr Khan attempted to take on Vote Leave's slogan directly.
"Immigration is a concern to a lot of people but leaving the EU isn't the answer," he said.
"How is it having more control if you have less money in your pocket as Martin Lewis of Money Saving Expert says?
"How is it having more control if we have a recession as the Bank of England and IFS (Institute for Fiscal Studies) say?
"How is it having more control if we're not investing in the schools and the hospitals and GP practices?
"How is it having more control if Karim (an audience questioner) can't get a job because local employers are suffering?
"How is it more control if there's double the immigration as there would be under an Australian points system?
"How is it having more control if there are businesses from China, India and America choosing Germany and France over London?"
'Europe doesn't tell us what to do'
In the debate's final section on Britain's place in the world, Ms Davidson insisted Britain already has control over many important policy areas.
The Scottish Tory leader said: "We as a country are not in the euro, we as a country are not in Schengen, we as a country have vetoes over things like the expansion of other states joining us."
She went on: "We at the moment make the EU work for us - we are in charge of the pound, interest rates, taxes, healthcare, education, spending.
"We make these decisions in the House of Commons or in the Scottish Parliament.
"Europe doesn't tell us what to do, we make those decisions.
"We make the decisions over when and if our soldiers go to war, we make these decisions."
She also sought to take on the Leave camp's perceived strength on immigration, saying: "We also, because we're part of the biggest free trading bloc in the UK, have the highest number of Brits in employment in Britain in our nation's history and that's what we would lose if we left."
Can anyone name the EU presidents?
But Ms Leadsom said she as a minister has her hands tied by EU rules "all day long".
Addressing Ms Davidson's comments, she said: "That really is an extraordinary claim."
Ms Davidson could then be heard saying "that is a lie" as Ms Leadsom went on: "The truth is that 60% of our rules and regulations come from the European Union.
"As City Minister and now Energy Minister all day long I'm told you can't do that, you can't do this because of the EU.
"The truth is there are five presidents of the EU, now can anyone name them?
"And did anyone vote for them?
"No, you didn't vote for them because you're not allowed to vote for them and you can't kick them out.
"And the problem is that in the EU there are 10,000 officials - that's nearly twice the number of people in this room by the way, who earn more than the UK Prime Minister, and you're paying for them.
"That gravy train is continuing, so we, Britain, have voted against Europe 70 times, and 70 times we have been out-voted.
"So how does that mean we have any influence in Europe?"
'You deserve the truth'
Ms Davidson later said Ms Leadsom had told a "blatant untruth" by claiming 60% of UK law comes from the EU.
She said: "13% of our laws according to the independent House of Commons library, that number is 13%.
"In the last five year Parliament it was four, it was four bills out of 121 that came out of Europe.
"I think that there is a real question here. You are being asked to make a decision that is irreversible, we can't change, we wake up on Friday and we don't like it and we are being sold it on a lie because they lied about the cost of Europe, they lied about Turkey's entrance to Europe, they lied about the European army because we've got a veto over that.
"They put these in their leaflets and they've lied about it here tonight too and it's not good enough. You deserve the truth - you deserve the truth."
Mr Johnson received loud cheers and a standing ovation from parts of the audience when he declared that this Thursday "could be our country's independence day".
Summing up the Leave position at the end of the debate, the former mayor of London painted an optimistic vision of a post-Brexit Britain.
He said: "At the end of this campaign I think you'll agree there is a very clear choice between those on their side who speak of nothing but fear of the consequences of leaving the EU, and we on our side who offer hope.
"Between those who have been endlessly rubbishing our country and running it down, and those of us who believe in Britain.
"They say we can't do it, we say we can. They say we have no choice but to bow down to Brussels, we say they are woefully underestimating this country and what it can do.
"If we vote Leave we can take back control of our borders and huge sums of money, £10bn a year net, our tax-raising powers, our trade policies and of our whole law-making decision - democracy, that is the foundation of our prosperity.
"And if we stand up for democracy we will be speaking up for hundreds of millions of people around Europe who agree with us but who currently have no voice.
"If we vote Leave and take back control I believe that this Thursday can be our country's independence day."
Contingency in place for Brexit, says Kenny
Taoiseach Enda Kenny has told the Dáil that there is a "whole of Government contingency framework" in place in the event of a UK vote to leave the EU.
He also said the votes would be counted immediately after the polls close on Thursday evening, with a predictive result known by 3am or 4am on Friday.
Mr Kenny was responding to Taoiseach's Questions in the Dáil, which focused on Government preparations for a possible UK withdrawal from the EU.
Fianna Fáil leader Micheál Martin said he was very concerned about the absence of contingency planning.
He also said there was a need for "calm and cool heads" in the aftermath of the result, and that Ireland should have a prepared position going into next week's European Council meeting.
He said equally if the UK voted to remain, it was a moment of reflection and real lessons needed to be learned about how Europe is going about its business.
"There's a lot of talk about subsidiarity. Europe is too involved with the minutiae on the ground that should be left to national parliaments," Mr Martin said.
Mr Kenny said he hoped the vote would be in favour of staying.
He said he felt a sense of "different reflection" from the British electorate in the last 48 hours.
A contingency programme was in place, he said, involving Government meetings and contacts with other European leaders.
He said a vote to Leave did not mean the UK would go on Friday - there was a still a two-year window for that.
If the vote was to Remain, Mr Kenny said he agreed with Mr Martin that there were lessons to be learned from that.
He highlighted a letter he had written to the President of the Commission about conditions set by Eurostat, restricting countries from spending on facilities such as housing.
"They have withdrawn approval for a case in Britain. This does not help the situation. I do agree that not everything is perfect about the European Union."
Sinn Féin leader Gerry Adams said the vote would have a direct impact on the people of Northern Ireland.
He said the British government wanted to either do away with the human rights elements of the Good Friday Agreement or not implement the protocols central to the agreement.
"In my view they will find this easier to do if they are not part of the EU," he said.
The Minister for Finance this evening said he is optimistic Britain will vote to remain in the EU.
Speaking on RTÉ's Six One News, Michael Noonan said it is important for Ireland that the single market with the UK continues.
Mr Noonan said that in any post-Brexit negotiations, the Government would be doing everything it can to assist the UK on the basis that it is Ireland's nearest neighbour and biggest customer.
Mr Noonan said Brexit is a risk and if Britain voted to leave, it would hit Ireland by between 0.5 and 1.2% of GDP, with a potential increase to 1.6% of GDP.
He said nothing would happen immediately.
Mr Noonan said the free travel area has been in existence since the foundation of the State, pre-dating the entrance of both countries into the EU.
He said legalities will be explored if there is a vote to leave.