US Vice President Joe Biden has arrived in Ireland for a six-day visit.
Mr Biden has met Taoiseach Enda Kenny and is also due to meet President Michael D Higgins.
He arrived with his brother and sister, his daughter and five grandchildren.
He was welcomed to Ireland by Minister for Foreign Affairs Charlie Flanagan.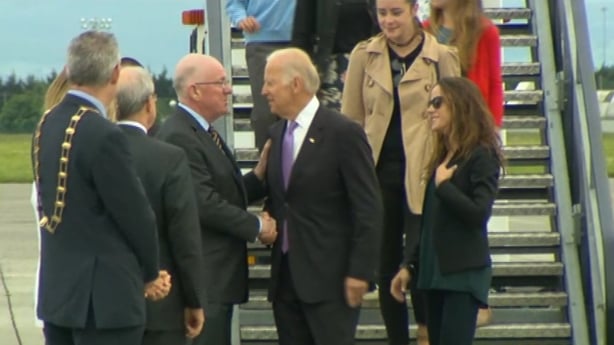 Mr Biden then travelled to Government Buildings where he was formally welcomed by Taoiseach Enda Keny.
Mr Kenny said he hoped Mr Biden enjoyed his visit and Mr Biden said that he himself had visited Ireland several times privately, but never as vice president.
He said that he had promised his late son Beau that he would make a family trip to Ireland, "Unfortunately Beau didn't make it, but we decided that we would bring the whole family."
Irish-American Mr Biden spoke of his great-grandfather who emigrated from Ireland, and he also spoke of the pride his family felt in their Irish heritage.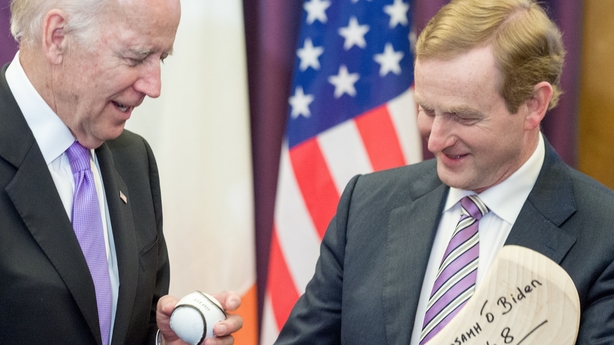 Mr Kenny gave Mr Biden a hurley and a sliotar, and the Vice President said: "I have witnessed one game and I have one regret, that they don't have this in the United States. I played American football and American baseball in high school and college, but this would have been ... This is a dangerous game."
Taoiseach Enda Kenny welcomes US Vice President Joe Biden https://t.co/j45oEzsBfOhttps://t.co/6gueFiJKF7

— RTÉ News (@rtenews) June 21, 2016
He will visit counties Mayo and Louth - where his ancestors came from - in addition to several engagements in Dublin and a stop at Newgrange.
The tricolour and the star spangled banner at Govt Buildings in Dublin, awaiting arrival of @VP Biden. @rtenews pic.twitter.com/3EBqnAA3YK

— Caitriona Perry (@CaitrionaPerry) June 21, 2016
Biden speaks of personal nature of upcoming trip to Ireland
Trump is damaging US reputation abroad, says Biden
Mr Biden will hold a bilateral meeting with Mr Kenny tonight and one with President Higgins tomorrow.
He will spend tomorrow afternoon and Thursday at various locations in Co Mayo, during which he will play a round of golf with Mr Kenny.
He will also deliver a keynote address at an event in Dublin Castle on Friday evening, when a spokesperson said he would address "the Irish-American experience, the shared heritage of the two nations, and the values of tolerance, diversity and inclusiveness".
The event, which begins at 5pm, is open to the public with tickets available "on a first-come, first-served basis" by applying online or from the Westbury Hotel in Dublin today.
Mr Biden will also speak at an event at Trinity College Dublin on Friday morning, and to the American Ireland Fund that evening.
On Saturday, he will visit various locations in Co Louth including the Kilwirra Cemetery and Newgrange in Co Meath.
He will return to the US following a lunch with Mr Kenny on Sunday.