It is understood Minister for the Environment Simon Coveney and waste companies are still holding discussions by telephone to find a resolution to the bin charges controversy and a number of options are being considered.
Earlier the minister indicated he was looking at the possibility of placing a cap on bin charges. He said he would consult the Attorney General.
It is understood a package has not yet been finalised. The minister is due to bring his proposals to Cabinet tomorrow.
A new pay-by-weight charging system comes into force on 1 July, in which consumers will pay for their waste according to the amount produced.
Speaking before a meeting with councillors on South Dublin County Council this afternoon, Mr Coveney said that he will ensure that customers do not pay more next year than they did in the previous year and that this would have to be done using primary or secondary legislation rather than by a voluntary arrangement with waste operators.
He said he believes that a pay-by-weight system would be a positive development but did not want a level of anger building up around something that is a good thing.
Mr Coveneny said he needed to convince householders that there was no danger and significant opportunities to reduce their waste charges under a pay-by-weight system.
However, he said customers could not change their habits overnight and needed time to adapt to the new system.
He said he had spoken to some members of the industry today and will have further discussions this evening after the industry met themselves for three hours this morning.
He said he has quite a lot of work to do this evening and needs further legal advice before he can publish a package of measures for Government tomorrow. 
Earlier, Minister for Social Protection Leo Varadkar said the principle of pay-by-weight bin charges makes sense and will encourage people to compost more, recycle more and reduce waste.
Mr Varadkar said that the system is fair and good for the environment and that 20% of households are already paying for waste by weight.
Waste collectors have been accused of using the new regime as an opportunity to dramatically hike prices.
Sinn Féin's Mary Lou McDonald has called for the pay-by-weight regulations to be scrapped.
Speaking on RTÉ's Morning Ireland, Ms McDonald said that the regulations were ill-conceived from the beginning and allow waste companies to "fleece ordinary families, carers and people on low incomes".
"They make no provision for waivers, for carers, for people with young babies. This is a recipe for illegal dumping because people on small incomes and under pressure will be left perhaps with no other options."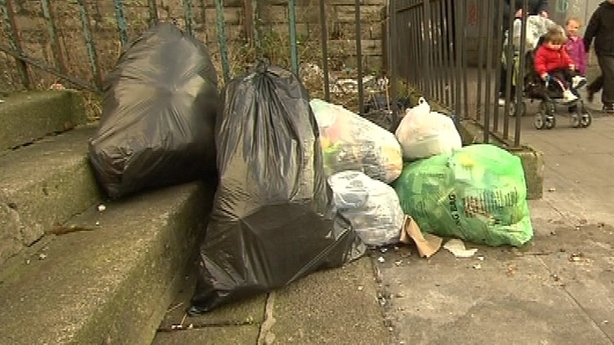 In addition the use of stand-alone bags will now be banned, she said, which would cause hardship for those who live in terraced homes without a front garden.
In response, Mr Varadkar said Sinn Féin's proposal that waste be paid for through general taxation was just code for saying the middle class should pay for everything and that others should pay nothing.
"Paying by weight will encourage people to reduce waste, it'll encourage people to compost more and it'll encourage people to recycle more.
"I think it's a much fairer system to pay for what you produce, the producer pays principle [with] people paying for the amount of waste they produce."
Mr Varadkar said, however, that some waste companies appear to be taking advantage of the new system to increase prices and that was not something the Government was going to allow.
He said that Minister for Housing, Planning and Local Government Simon Coveney will meet representatives from the industry again today and is expected to brief the cabinet and media on the matter tomorrow.
Anti-Austerity Alliance TD Paul Murphy said the voluntary agreement with waste companies is not a route Mr Coveney should take and claimed the companies cannot be trusted on the issue.
Speaking on RTÉ's News at One, Mr Murphy said he has not had any conversations with other political parties on the subject, but believed there would be significant pressure on Fianna Fáil to support a motion to scrap the regulations.
He said the privatisation of bin services has been disastrous and the service should be returned to local authorities.
Meanwhile, the head of one of the country's main waste companies has said the new pay-by-weight system would not lead to higher refuse charges for two thirds of customers.
City Bin managing director Gene Browne said in a letter to customers that there has been a lot of confusion and misinformation about the new system.
According to his company's analysis, around one third of household bills will go down, one third will remain the same and one third will increase.
However, Mr Browne condemned the Government's claim that 87% of customers would see no change.
He said that would be "mathematically impossible without further subsidisation, either from the taxpayer or the waste collector".
He said some customers who would see an increase are on a "legacy" pricing plan which does not cover the cost of the service.
Others are "high users" who have previously been subsidised by other customers under a flat fee system he said.
Industry sources say a big issue is the number of former waiver customers - pensioners and those on social welfare - who were given temporary discounts following privatisation of the waste industry.
These customers account for up to 20% of households in some regions and would see bigger than average increases.