Taoiseach Enda Kenny has told a gathering of the Irish community in Liverpool that next weeks referendum on European Union membership is the most important vote they will cast in 50 years.
He said that Irish people like to vote, and understand politics very well, "your weapon in a democracy is your vote and in this case its important that people of Irish descent know how important next Thursday's ballot is."
Mr Kenny was speaking as part of a two day visit to the UK to encourage the estimated 60,000 Irish people who have a vote in the upcoming referendum.
Taoiseach @EndaKennyTD tells Irish community in Liverpool that #EUref is most important vote in 50 years pic.twitter.com/xTU6ySRP5e

— Fiona Mitchell (@mitchefi) June 16, 2016
Earlier, he said it is unknown how hard Ireland will be hit if the UK voted to leave the EU.
Speaking on RTÉ's News at One, Mr Kenny said the Government has a vested interest in the outcome of the referendum, adding that a leave vote would affect Irish and British relations, Irish and Northern Irish relations as well as Irish people living in the UK.
On the issue of the status of Irish people living and working in the UK following a Brexit, Mr Kenny said "things would not be the same the day after".
"We've had the common travel area since 1922. That has worked very well for Ireland and Britain, for both countries when we were outside the European Union and when we were both inside the European Union.
"It has not been tested when one is outside and one is inside and that's an unknown area. I've raised this at the highest level with Downing Street, they understand that.
"And while we would work to continue to have a common travel area, you never know what obstacle might arise or might be put in the way of that."
The Taoiseach said the Government has not concentrated yet on the possibility of the UK exiting, but he said that Government departments are looking at all of the contingency arrangements that would be put in place should that happen.
He added that "obviously Ireland has a very clear view here, if there's a Brexit and they decide to leave, Ireland will be speaking to Britain in the following period as a fully committed member of the European Union to a country which has expressed its wish to leave".
He pointed out that the central issue is the effect a leave vote would have on the value of sterling, adding that if the value was to fall and remain low over a period of time that that could have a negative impact on jobs and the economy.
"It's an unknown quantity but speaking to business here those who export through Britain would say that this would put you back many years in terms of paperwork, inefficiencies, delays, cost, competitiveness.
"I think the central issue out of that would be what would happen to sterling. If there was a period of sterling being very low for a long period of time, how would that impact on competitive costs and exports from Ireland. I think that's a real issue that would impact on jobs and the economy."
Mr Kenny said if the UK votes to leave there is a two-year period, over which membership will be wound down, which will give the government, the IDA, Enterprise Ireland and the Central Bank a chance to assess the impact if the value of sterling was to drop.
In relation to the continuation of trade relationships with the EU, Mr Kenny said while Britain is a very strong export market in its own right, he said he cannot say what the attitude of other EU leaders would be towards the UK in the event of a vote to leave.
He said that by the UK remaining in Europe it can continue to have access to a single market and can still be a part of shaping policy.
Mr Kenny said on the remain side of the debate, people can point to tangible reasons why the UK should remain, however, he said that on the leave side, there is nothing other than the illusion that "something might be better".
He said if the British electorate decide to leave, Ireland will not be holding a similar referendum.
He said Ireland's membership of the union has transformed the country.
Mr Kenny was to travel to Manchester this evening to speak to business leaders, however he will not be discussing Brexit.
Both sides of the debate have suspended their campaigns in light of the shooting of British MP Jo Cox.
Tomorrow Mr Kenny will meet Irish community groups in the city.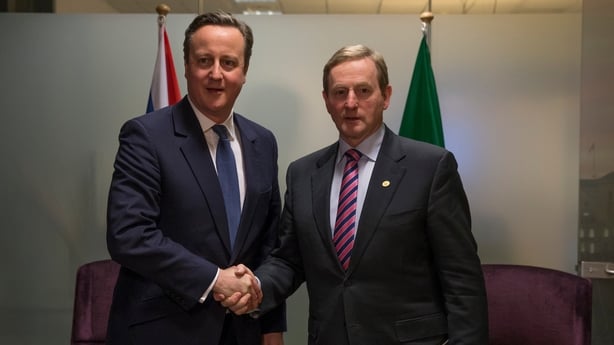 Mr Kenny had been due to attend a joint press conference with British Prime Minister David Cameron tomorrow morning, but this was cancelled as Mr Cameron uses every last day of the campaign to win over voters in what is the most important ballot in a generation.
Mr Kenny will also attend a British Irish Council Summit meeting in Glasgow.