Taoiseach Enda Kenny has told the Dáil that the €200m infrastructure fund for local authorities to help develop the supply of new housing will not be accessible until next year.
The Cabinet had approved a proposal from Minister for Housing Simon Coveney and Minister for Public Expenditure and Reform Paschal Donohoe to establish the €200m infrastructure fund to help progress social, affordable and private housing.
The first €70m of the €200m fund will be available in 2017, with €100m in 2018 and €30m in 2019.
In a joint statement, the ministers said that under the scheme local authorities would be able to apply and compete for the funding "to provide access infrastructure such as distributor roads, bridges, surface water management, amenities and utility diversion to facilitate the opening up of private development on major housing sites and to significantly increase the supply of housing".
Mr Donohoe added: "We urgently need to take action to remove impediments to the supply of private housing so that we can make more rapid progress towards achieving our target output of 25,000 houses per annum to meet housing needs.
"The €200m fund which we are establishing will help to activate existing planning permissions for large scale housing developments and should facilitate in the region of 15,000 to 20,000 new houses and apartments."
Under the scheme, the authorities that secure funding would be the ones that built the most units quickly
.@simoncoveney & @Paschald say the vast maj of 200m infrastructure fund will be spent in first 2 years @rtenews pic.twitter.com/BR6656FrAc

— Martina Fitzgerald (@MartinaFitzg) June 14, 2016
Responding to questions from Labour Party Leader Brendan Howlin, Mr Kenny said the fund was made up of €150m of exchequer funding, with local authorities contributing €50m.
He said local authorities, in the meantime, could borrow from the Housing Finance Agency to match the Government's contribution.
Meanwhile, the Dáil is this evening debating a Sinn Féin motion to link rents to the Consumer Price Index.
Sinn Féin leader Gerry Adams earlier urged the Taoiseach to vote for the proposed legislation.
However, Mr Kenny accused Mr Adams of playing politics with the proposal, when the Oireachtas Housing and Homeless Committee is due to report on Friday.
Charity urges reversal of Govt's housing strategy
Earlier, the Government was urged to reverse its social housing strategy and build more houses instead of providing rent supports.
The proposal is one of 18 made by the Society of St Vincent de Paul in its pre-budget submission.
It said the current Government strategy is to meet 70% of social housing needs through supports in the private rented sector and 30% through the provision of social housing units by local authorities and approved housing bodies.
SVP wants the emphasis switched with more housing being built or acquired and said the only lasting solution to the housing crisis is increasing housing supply.
Head of Social Justice and Policy John-Mark McCafferty said housing is a key issue but there are stark needs in relation to income, energy, childcare and education.
He said: "There are 140,000 children in consistent poverty, 2,300 is the average number of calls a week to SVP at a time of growth in recovery".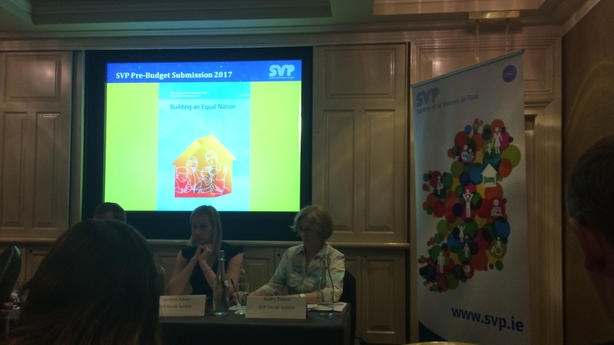 The charity's vice president, Kieran Stafford, said families are saying "they are unable to access the childcare and after school support they need in order to comply with Government requirements to take up employment or training, there is a lack of policy coherence".
The Society is asking the Government to improve in-work income supports for one-parent families and to provide more supports to lone parents in education or training.