A student march in Chile's capital ended with violent confrontations with police and the vandalising of a Catholic church as the radicalisation of the country's politically powerful student movement intensified.
University and high school students in Chile have become increasingly disenchanted with the left-leaning government of President Michelle Bachelet.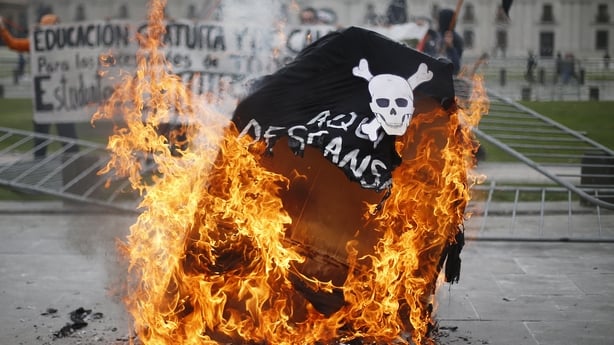 They have accused Ms Bachelet of reneging on a number of promises regarding social and economic reforms, and are incensed over the government's failure to complete a planned education overhaul, which has been diluted due to budget constraints. They have promised more protests.
At the end of the march yesterday, masked protesters entered a church in downtown Santiago and destroyed a three-metre tall statue of Jesus Christ.
Chile's Interior Ministry Mario Fernandez, who took over the post on Wednesday after the prior minister resigned, condemned the statue's destruction.
"What we have just seen is a very troubling symptom of what some people, young people it seems, are starting to do to our country," he said.
Student groups including the Confech student union, have also condemned the vandalising of the church.
Student groups have called the act inappropriate and have said it was committed by a fringe group with little understanding of the student movement's principles.
Student protests, a regular fixture during the last centre-right government of Sebastian Pinera, often end in clashes with police.
The massive protests have increased in recent weeks, heaping political pressure on Ms Bachelet's government.
In the last month, students have staged a protest inside the country's presidential palace and have occupied and paralysed dozens of universities and high schools throughout the country.