Hillary Clinton celebrated her triumph as the first woman to lead a major party in a race for the White House, scoring big wins in California and New Jersey to cement her grip on the 2016 Democratic Party presidential nomination.
The former first lady, US senator and secretary of state celebrated her victory at an event with supporters in Brooklyn, New York, where she placed her achievement in the context of the long history of the women's rights movement.
"Thanks to you, we have reached a milestone," Ms Clinton said in a speech. "We all owe so much to who came before."
Ms Clinton appealed to supporters of rival Bernie Sanders to join her and said the Democratic Party had been bolstered by his campaign for eradicating income inequality, which has commanded huge crowds and galvanised younger voters.
She also criticised Mr Trump for using divisive rhetoric that belittled women, Muslims and immigrants, and took specific aim at his recent condemnation of an Indiana-born judge of Mexican heritage.
"The stakes in this election are high and the choice is clear. Donald Trump is temperamentally unfit to be president and commander-in-chief," she said.
"When Donald Trump says a distinguished judge born in Indiana can't do his job because of his Mexican heritage, or hemocks a reporter with disabilities, or calls women pigs, it goes against everything we stand for," she said.
Don't let anyone tell you great things can't happen in America. Barriers can come down. Justice & equality can win.https://t.co/5xcwapDvPJ

— Hillary Clinton (@HillaryClinton) June 8, 2016
In a fundraising email to supporters, Ms Clinton declared her campaign had broken "one of the highest, hardest glass ceilings."
On Twitter, she said: "To every little girl who dreams big: Yes, you can be anything you want - even president. Tonight is for you."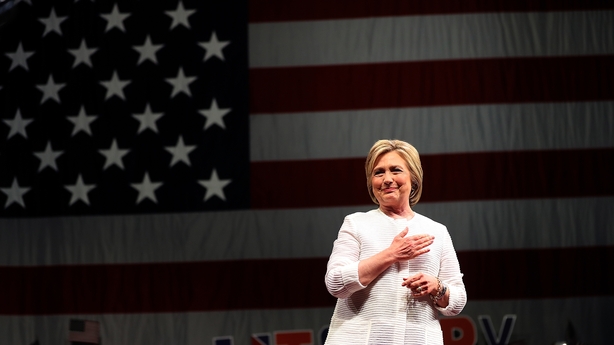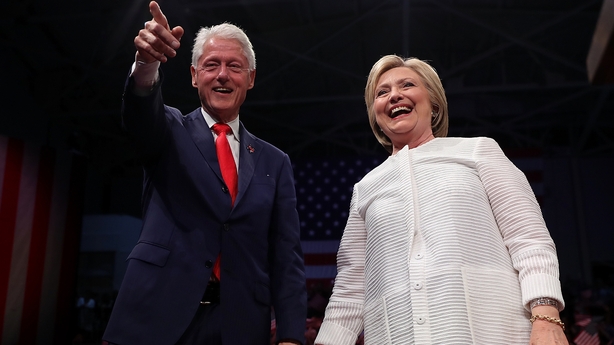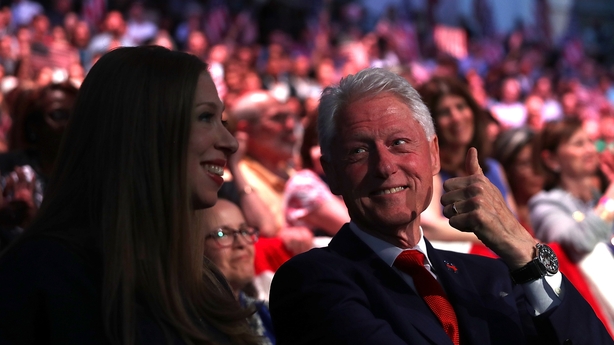 Her rival told supporters in California,"We are going to fight hard to win the primary in Washington, DC," referring to the final nomination contest next Tuesday.
"And then we take our fight for social, economic, racial and environmental justice to Philadelphia," where the Democratic convention will be held to formally nominate the party's candidate to challenge Republican Donald Trump for the White House.
Mr Sanders made a highly-anticipated address to supporters in California, the most populous state in the nation and a contest he was battling fiercely to win.
He has argued that a strong finish yesterday in the six states, particularly in the trophy state of California, would bolster his argument for remaining in the race.
But Ms Clinton had already won New Jersey, South Dakota and New Mexico, according to US networks.
Media reports also said she won in California.
Mr Sanders was projected to win North Dakota and Montana.
Montana – Thank you all. The struggle continues! https://t.co/NM2H80ZEGG

— Bernie Sanders (@BernieSanders) June 8, 2016
White House press secretary Josh Earnest said President Obama had called Ms Clinton and Mr Sanders and "congratulated both candidates for running inspiring campaigns that have energised Democrats, brought a new generation of Americans into the political process, and shined a spotlight on important policy ideas".
Mr Earnest also said the president will meet with Mr Sanders at the White House tomorrow, "at Sanders' request."
The statement, coming on the final night of major primaries in the combative nominations race, fuels speculation about whether the self-described democratic socialist would take his fight all the way to the Democratic convention in July, as he has repeatedly insisted, or concede defeat.
Mr Obama thanked Mr Sanders for "energising millions of Americans" with his campaign highlighting the fight to end economic inequality and the influence of special interests on US politics, according to Mr Earnest.
The president, who has expressed a keenness to enter the political fray and help the Democrat who goes up against Mr Trump in the general election, was eager to work with Mr Sanders "to engage millions of Democratic voters, and to build on that enthusiasm in the weeks and months ahead," Mr Earnest said.