Sinn Féin has launched its campaign to persuade people to vote for the UK to remain within the European Union.
NI Deputy First Minister Martin McGuinness said he believed the people of Ireland north and south wanted to remain in the EU.
The UK wide vote on whether to stay or leave the EU takes place on 23 June.
Sinn Féin, the Ulster Unionists, SDLP and Alliance Party all support a Remain vote, while the Democratic Unionists are campaigning for Brexit.
At the launch event in a Belfast hotel, Mr McGuinness said: "Sinn Fein will be campaigning vigorously in the coming days and weeks to encourage people to vote to put Ireland first and vote Remain in the EU."
Sinn Féin has launched its campaign in favour of the UK remaining within the EU. More: https://t.co/CiUBvZJ1qhhttps://t.co/3t7WJX5JQg

— RTÉ News (@rtenews) June 3, 2016
He added: "The European Union is far from perfect but the only way to address that and change it is from within. Our policy towards the European Union remains one of critical engagement.
"Brexit would be bad for Ireland, bad for business and trade, bad for our farmers and bad for human rights and workers' rights."
Ukip confident of Brexit victory
The referendum campaign focus on immigration represents a "turning point" in favour of Brexit, Ukip leader Nigel Farage said as he confidently predicted victory.
Mr Farage accused British Prime Minister David Cameron of showing a "sheer level of dishonesty and deception" as he answered voters' questions about controlling the UK's borders in a TV debate last night.
"All I have to do next week is tell the truth because the British public are ready to hear it," he said, ahead of another live broadcast where the two politicians will appear separately.
Vote Leave - spearheaded by senior Tories Boris Johnson and Michael Gove - came out in favour of imposing an Australian-style points system to control new arrivals if Britain leaves the EU.
In a speech to supporters in London, Mr Farage said that after years of being pilloried by the establishment, Ukip's ideas were "now at the centre mainstream of political debate".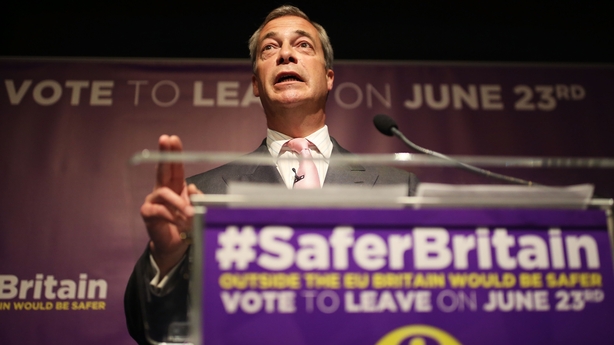 "What was once considered to be wrong is now mainstream. I think we saw this week the turning point in this referendum," he told them.
"People are beginning to understand that the Prime Minister cannot answer this fundamental question.
"When he says that we can maintain control of immigration while remaining a member of the European Union, people increasingly know this Prime Minister is simply not telling the truth.
"Now that there are lots of big voices saying this, I believe this referendum will be won by the Leave side and that's why I went to the bookmakers and put my money on."
He said a "flood" of EU migrants meant some communities had been "turned literally upside down" - with people struggling to get their children into schools, secure a GP appointment or buy a home.
Assertions that migrants pay more in tax than they take out does not allow for the costs of such pressure on public services, he said.
He blasted the pro-EU camp for focusing only on the economic side of immigration, in terms of its impact on the GDP measure of national wealth.
Brexit could set damaging precedent for central Europe - economist
A decision by Britain to leave the EU could set a "devastating" precedent for central Europe as some countries, particularly Hungary, could consider following suit, a leading economist there said.
While "out" campaigners in Britain say the country would be financially better off, nationalism and concerns about immigration could tempt some states, even net beneficiaries of EU funds, to talk about leaving, Gyorgy Jaksity, chairman of investment firm Concorde, said.
Analysts say a "leave" vote in the 23 June British referendum would upset financial markets, cause credit spreads to widen, trigger a rush into safe assets and bolster the dollar.
Mr Jaksity said: "Longer-term, the consequences for the EU can be quite devastating." 
"If there is a major player leaving the EU, and Britain is definitely a major player, it does have a long-term effect on the EU in many different ways," he said at the Reuters Eastern Europe Investment Summit.
"In Central Europe I would not exclude any country, sometime in the future, being in a position where a politician says we go out," Mr Jaksity said, adding that Hungary was "number one" on his list of those potentially opting out in such a scenario.
Hungarian Prime Minister Viktor Orban has clashed several times with the EU over policies affecting the media,the judiciary and the central bank.
His government, which has called for a referendum against an EU scheme to resettle migrants coming to Europe among member states, is running a billboard campaign calling on Hungarians to "send a message" to Brussels.
However, Foreign Minister Peter Szijjarto told the weekly Figyelo in an interview published yesterday that Hungary's future was within the European Union. The next election is due in 2018 and Orban's Fidesz party has a firm lead in the polls.
Under the EU's current financing cycle, which ends in 2020 Hungary gets some €25 billion over seven years. If that largesse diminishes, anti-EU sentiment could increase, said Mr Jaksity, one of Hungary's most influential economists and a former chairman of the Budapest Stock Exchange.
"As long as you get cheap and almost unlimited EU funding,you do not really see it. But when that disappears you have a growth problem, which is what Hungary faces in the years after 2020, which is an issue that no one has an answer to."