Staff at Oberstown youth detention centre in Co Dublin have taken part in industrial action in response to a rise in violent attacks on staff since the centre started accepting detainees from the prison system.
The action involved residents being confined to their rooms from 8am until midday.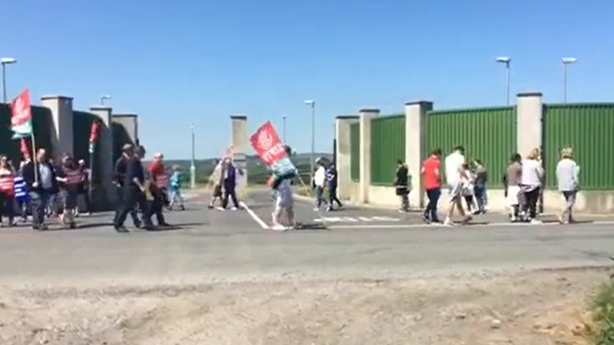 Further four-hour stoppages are planned for every Tuesday in June.
The two unions involved, SIPTU and Impact, said full emergency cover was put in place and that State exams at the centre will not be disrupted.
The Workplace Relations Commission has invited both sides in the dispute to talks.
The Oberstown campus currently caters for 48 resident aged under 18, including a mix of vulnerable young offenders and violent criminals with multiple convictions for serious offences.
The most recent official figures revealed over 100 violent incidents in the centre last year, almost half of which were classed as critical.
In total, critical assaults and injuries necessitated a total of 3,005 employee sick days, involving 65 staff members.
IMPACT assistant general secretary Tom Hoare said the staff are not receiving a reasonable level of protection or adequate training and are being injured and harmed at work.
Speaking to RTÉ's Today with Sean O'Rourke, Mr Hoare said that some of the new buildings brought into use at Oberstown since 2013 are unfit for purpose and his members are being "hammered" and hurt.
He said that frontline staff are careworkers who, up until a recent change in legislation, only worked with children up to the age of 15.
However, now they are dealing with people up to the age of 18 who are used to prison systems, he said.
Manager says new training method reducing injuries
The manager of the centre has said the number of injuries experienced by staff has reduced by two thirds since a bespoke model of training, specifically designed for the campus, was introduced in December last year.
Speaking on RTÉ's Today with Sean O'Rourke, Pat Bergin said the amount of sick and injury leave associated with the campus over the past number of years was high and when management carried out an assessment, they found the method and intervention used by staff up to last November to deal with incidents across the campus was "totally unacceptable" and was "causing injuries to staff".
Mr Bergin said the injury to staff was a "key concern" and he introduced a directive on how behaviour should be managed on the campus which included putting a stop to the use of physical restraint, which was "not approved and staff were not trained for" and it was "an old means of restraint".
He said eight to nine staff would restrain a young person and during that restraint, staff members were getting injured.
He said they now use the building for managing behaviour and that if a young person is out of control, they do not want staff going into that environment.
He said the person stays in the room and when the behaviour changes they can come out and rejoin the group.
He said Oberstown is not a prison and the fact that riot gear would be required at all is totally unacceptable.
He said there is a "lot of misinformation being disseminated out across the public airwaves about what's going on".
He said there's a sense that young people are being transported from St Pat's or from Wheatfield to the Oberstown campus and that that is not the case.
There are 48 people there who have not been in prison, he said.
He added that if a staff member is stabbed or bitten by a person in the centre, charges can be brought against that person and gardaí follow through in terms of prosecution.