US President Barack Obama has laid a wreath at the site of the world's first atomic bombing in Hiroshima.
"71 years ago, death fell from the sky and the world was changed," the president said after laying a wreath, as he became the first sitting US leader to visit the site.
Both Japan and the US hope the symbolic gesture will highlight their alliance and breathe life into efforts to abolish nuclear arms.
The atomic bomb dropped on Hiroshima on 6 August 1945, killed thousands of people instantly and some 140,000 by the year'send.
The city of Nagasaki was hit by a second bomb on 9 August and Japan surrendered three days later.
A majority of Americans see the bombings as having been necessary to end the war and save lives.
Most Japanese believe they were unjustified.
Barack Obama pays tribute to victims of the world's first nuclear attack during a historic visit to Hiroshimahttps://t.co/BxRxXGThab

— RTÉ News (@rtenews) May 27, 2016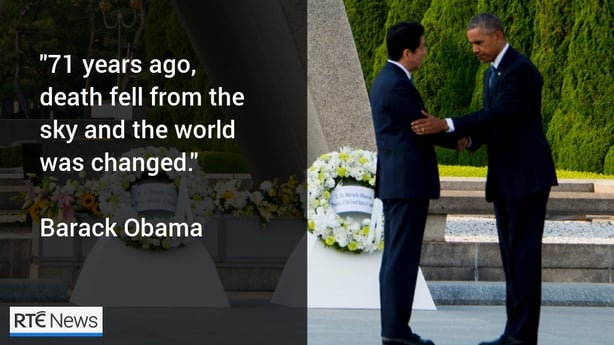 "We come to ponder the terrible force unleashed in a not-so-distant past," Mr Obama said after laying a wreath at a peace memorial. "We come to mourn the dead."
He continued: "Technological progress without equivalent progress in human institutions can doom us. The scientific revolution that led to the splitting of the atom requires a moral revolution as well.
"This is why we come to this place, we stand here, in the middle of this city and force ourselves to imagine the moment the bomb fell.
"We force ourselves to feel the dread of children confused by what they see. We listen to a silent cry.
"The world was forever changed here but, today, the children of this city will go through their day in peace," the US president said. "What a precious thing that is."