An agreement has been reached to end a work stoppage at the Poolbeg incinerator site in Dublin which occurred following the dismissal of three workers.
According to the UNITE trade union, management has agreed to reinstate the workers and look at complaints of migrant workers being paid below the agreed rates.
About half the 700 workforce stopped work today after three men, two of them locals from Ringsend, were let go on Friday.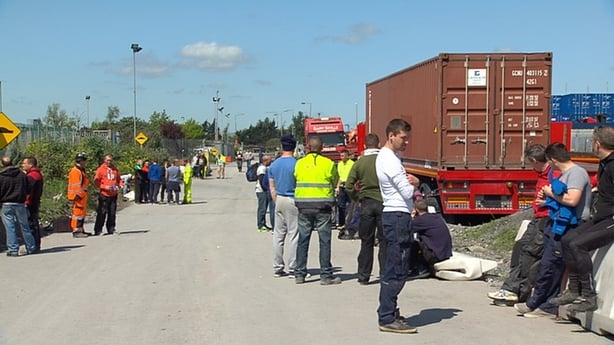 One of the men claimed this happened after he made a complaint about health and safety and bullying.
Around 300 employees walked out after new workers continued to be hired.
Many of the work force is from outside Ireland and there are concerns about pay differences.
Tom Fitzpatrick of UNITE said the company had agreed to look into this.
The three sacked workers will be reinstated, but it remains to be seen which section they will be in.
A spokesperson for Covanta, the company behind the incinerator, said: "The company deeply regrets the disruption caused by the unofficial work stoppage which occurred today, and is engaged in ongoing dialogue with trade union representatives to seek to resolve the matter.
"Since the construction project recommenced in October 2014, all efforts have been made to ensure the highest levels of compliance exist on the site, including the engagement of a full time independent Labour Compliance Management Team on site, to address any concerns or issues which may arise on the site.
"Due to the changing nature of this construction project, it is inevitable that as some works are completed, certain workers are no longer required while demand increases for workers with different skills.
"As a result, while approximately 800 people are currently employed on the site, a total of almost 2,600 personnel have been employed since the project started, and of that number less than 300 were from outside of Ireland.
"It is also the case that some specialist companies from outside Ireland that have won contracts to install bespoke waste-to-energy equipment need to bring in their own specialist engineering and installation staff.
"Hence, while 15 workers' contracts were ended last week, 30 personnel with different skills began work on the site this Monday, and of these 15 were non-Irish."