Civil servants at the Department of Education have warned the new Minister for Education, Richard Bruton, that schools could be forced to close because of inadequate funding levels.
In a briefing document prepared for Mr Bruton they warn that current reduced funding levels create a risk that some schools may not be able to cover critical costs such as insurance, heat or light, and that this could trigger school closures.
They warn that the adequacy of capitation funding for schools is "a critical issue".
The document says Education and Training Board schools - formerly VEC - may also face difficulties because income used by them to supplement core funding has also declined.
Departmental staff say a key challenge for the next budget and beyond is to start making progress on improving funding for schools.
The wide-ranging 507 page briefing document for the minister maps out the structure of the education system, and highlights current and upcoming issues and challenges.
Some sections are redacted.
The document warns the new minister that the capital funding currently being provided for Higher Education is "woefully inadequate" and will not address the sector's needs.
€350m in spending is planned for capital development in Higher Education until 2021.
However in the document civil servants estimate total investment demand in the sector at €3.8bn.
They say €1.5bn is "necessary" to meet continued growth in the sector; €1.3bn to address substandard accommodation; and €880m to bring the student-space ratio to international standards.
The €350m allocated includes €200m in Public Private Partnerships and direct Exchequer funding of €110m.
The briefing document states that this €110 million is already almost entirely committed and it says there is "virtually no prospect" of funding any Higher Education projects, other than PPP's, until at least 2022.
It warns that while allocated funding will "go some way" towards addressing the most critical needs in respect of minor works, equipment renewal and IT, "it is unlikely to meet those needs entirely".
In relation to the schools' building programme, the document warns that 28 major building projects that are currently at tendering stage may have to be held back if additional funding is not forthcoming.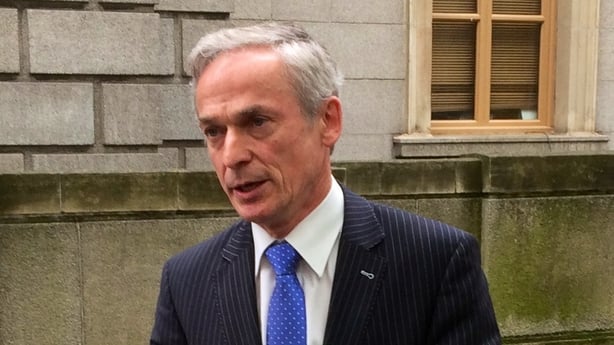 The Department of Education has been in discussions, it says, with the Department of Public Expenditure and Reform with a view to increasing its allocation for this year and 2017.
On small schools, civil servants say the Department plans to write to all patrons of one teacher schools, asking them to "reflect" on their sustainability. Similar letters will also be sent in the case of schools that are approaching one teacher status.
This is part of a new protocol that has been developed by the Department in conjunction with the Catholic Church and primary teachers' union the INTO.
However the briefing document states that while schools will be encouraged to amalgamate, engagement with the process will be on a voluntary basis.