Luas drivers have served notice of six further days of strike action for the month of June, which will cause more disruption to thousands of customers.
Among those affected will be Leaving and Junior Certificate students who rely on the Luas trying to get to their State exams, which commence on Wednesday 8 June.
As part of their long-running deadlocked dispute over pay, the drivers have already shut down the service for ten days.
They are already due to hold further stoppages this Friday, next Friday 20 May, and on 26 and 27 May.
However, it is understood that their union SIPTU will formally notify Luas operator Transdev in the coming days that it will strike on six more days in June - though the stoppages will be four hours only at a time.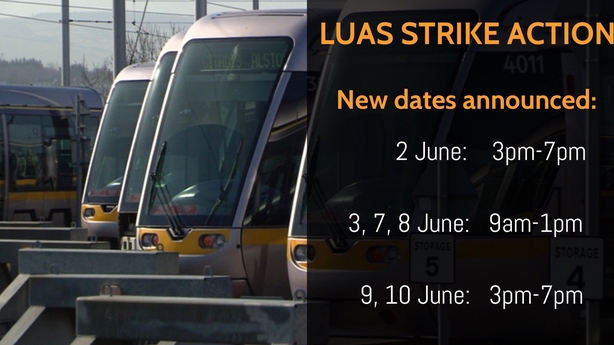 On 2 June, they will strike between 3pm and 7pm.
On 3, 7 and 8 June, they will halt service between 9am and 1pm.
On 9 and 10 June they will strike from 3pm to 7pm.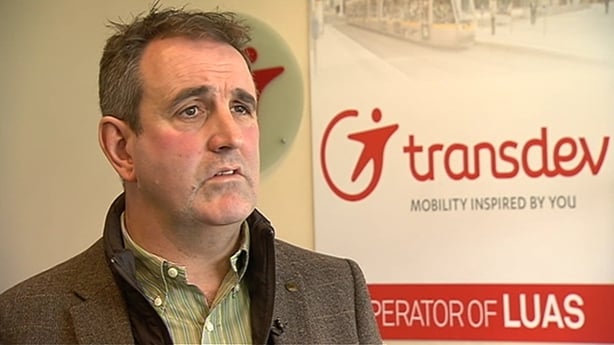 Luas operator Transdev has said the serious continuing industrial action by drivers is putting the company in a challenging financial position - and is now compromising the security of employment for the workforce.
The company accused SIPTU of designing the latest strikes to cause maximum disruption to customers with minimum loss of pay to drivers.
Transdev noted that as not all drivers are rostered on duty on strike days, not all of them lose pay, though all passengers lose the Luas service on those days.
It said a four-hour stoppage meant six and a half hours of disruption, which was unacceptable and would not be countenanced.
Transdev says it will actively review its options in consultation with legal advisors and revert to employees with a considered response in the coming days.
Transdev Ireland Managing Director Gerry Madden reiterated the company's commitment to remaining in Ireland and to fulfilling its legal obligations under its operating contract.
He also noted that the three non-driver grades had settled their pay dispute - but warned that there was no basis for any third-party intervention or direct discussions at present while the drivers maintain their current position, which he described as "totally out of line with their colleagues".
SIPTU Sector Organiser Willie Noone said: "The members involved have been engaged in a lawful dispute with Transdev since February of this year. This dispute could and would have been avoided if Transdev had been willing to engage positively from the outset of negotiations which commenced almost two years ago.
"SIPTU and the Luas drivers' workplace representatives have always remained available to resolve the dispute but unfortunately the employer has not shown a similar willingness."
He said Transdev had sent letters "containing threats against members involved in a lawful dispute of deductions from wages, lay-offs, short time working and removal from the payroll. As a result of this action by management our members had no option but to take the decision to escalate the dispute further."
He said SIPTU is calling on management to withdraw its threats and engage positively with the union.
A spokesperson for Minister for Transport Shane Ross has said the minister is very disappointed to hear about further strikes being announced by SIPTU and the impact that they will have on commuters.
The spokesperson said Mr Ross is concerned at the protracted nature of this dispute and the disruption caused to passengers, including Leaving Cert students and their families.
He said the minister shares and understands the frustration of commuters at the prospect of further stoppages.
However, he said Mr Ross does not intend to intervene in the dispute, as he has no function in relation to the employment of the Transdev staff.
He said it was up to the employees and their private sector employer to reach a resolution with each other.
He added that if the two sides needed external help, then the State has industrial relations institutions which are available to assist.