The average monthly rent nationally exceeded €1,000 for the first time since 2008 in the first quarter of 2016.
According to property website Daft.ie, rents nationwide rose by an average of 2% in the three-month period.
Rents are continuing to increase due to a lack of supply.
Daft.ie said the number of properties on the market on 1 May was at its lowest point on record with just over 3,000 units available to rent.
In May 2009, there were 23,000 homes on the rental market.
Cities are bearing the brunt of the rental increases; in Dublin rents went up by 8.8% in the year to the end of March and are now over 1% higher than they were at their peak in early 2008.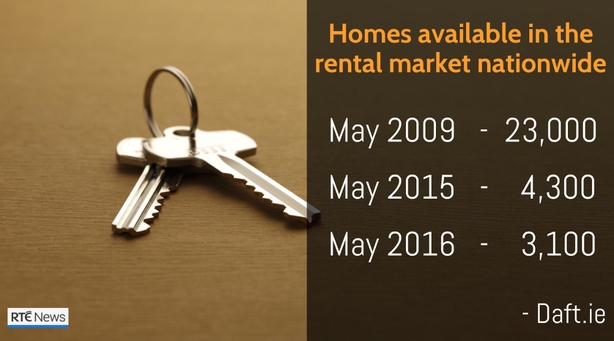 The average Dublin rent now exceeds €1,460.
The highest rate of rental inflation countrywide was in Cork city, where rents rose by 16% in the 12 months.
Limerick and Waterford cities also registered increases in excess of 12%.
The report's author, Trinity College economist Ronan Lyons, said an extreme shortage of supply in the rental market is causing inflation of up to 10%.
He said the rise in rents is due to a lack of supply and high demand and while strong demand is a positive sign the supply issue needs to be addressed.
Mr Lyons said the extreme shortage in the rental market means that 10% inflation is becoming "the new normal".
He added: "In the wider economy 0% or 1% inflation is the normal for the last few years but in the rental market it's become basically the norm to see 10% inflation."
Speaking on RTÉ's Morning Ireland, Mr Lyons said there is currently no widespread agreement on what it costs to build and this should become a key priority for the new housing minister, Simon Coveney.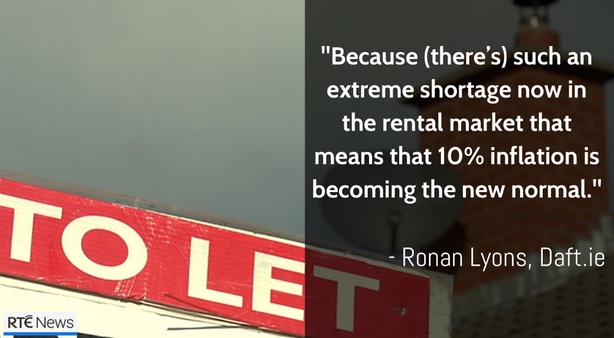 He said that there is a need to get various parties involved in building a home around a table and establish a series of actions to bring the cost of housing back in line with incomes.
He said that while the two-year rent freeze has given certainty, it had an upward effect on rents before it came into effect.
Mr Lyons said rents in Dublin have risen by nearly 50% since 2011 and have risen around 35% countrywide.
He said there are three core issues that need to be addressed by Mr Coveney - construction costs, social housing and how we subsidise those on lower incomes and how we use land.
He also said there is no shortage of land but we need to start thinking about apartment living.
Also speaking on Morning Ireland, Simon Communities national spokesperson Niamh Randall said the rental market had reached "a crisis point".
Ms Randall said people are being pushed out of the private rental sector into homelessness and "they have nowhere to go because there aren't enough properties".
She said that the rent stability measures do not seem to have worked.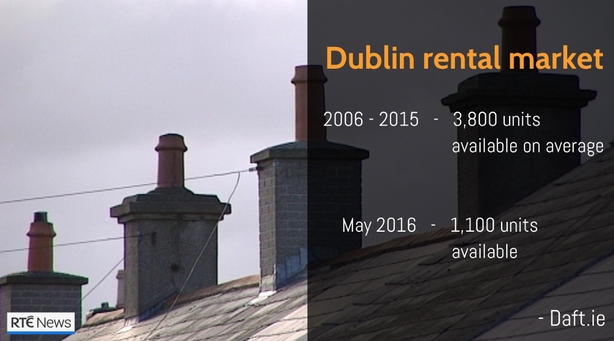 Meanwhile, the Irish Property Owners' Association has said that rents have increased from a very low base.
IPOA information officer Margaret McCormick said the cost of providing accommodation is expensive and landlord costs rose by up to 25% over previous years.
Consequently, she said, many landlords have left the sectors over recent years which has also contributed to a shortage of accommodation.