A Boeing 767, which is destined for a glamping site in Co Sligo, has been successfully beached at Enniscrone.
The aircraft left Shannon on a barge on Thursday on its way to its new home. 
Preparations are being made this evening to lift the plane off the barge and bring it to a nearby site where it will be the accommodation centerpiece in a glamping village.
Timber mats have been laid on the sand for a truck and trailer to get across the beach to the barge.
The plane will then be lifted by crane onto the trailer and driven to David McGowan's Quirky Nights Glamping village in Enniscrone.
Mr McGowan already has a number of old London taxis and a double decker bus ready to be converted into accommodation on the site and is also planning to buy more buses and boats for the venture.
The operation to bring the plane to the site will continue into the night.
Thousands of people travelled to Enniscrone today to watch the plane coming in.
Speaking on RTÉ News, Mr McGowan joked: "If I don't land it, I'll be known as the biggest eejit in the country."
Entrepreneur McGowan bought the plane, which was previously owned by Russian airline Transaero, last year for €20,000.
Transporting it back to Sligo has been a major logistical exercise after a transfer by road was ruled out.
She's beached #planesailing pic.twitter.com/101rBACN0j

— Mayo North (@MayoNorth) May 7, 2016
Just when you thought you had seen it all... #767makingwaves #PlaneSailing @quirkyglamping @AntonSavageShow pic.twitter.com/Jtsn8cnouQ

— Irish Air Corps (@IrishAirCorps) May 6, 2016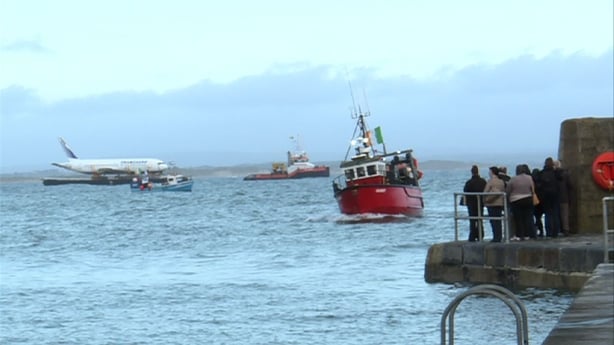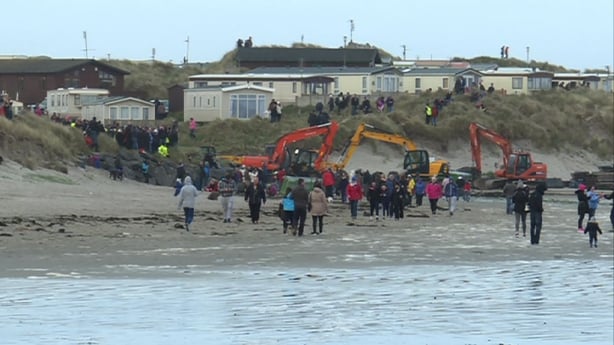 He'll remember this day...#PlaneSailing pic.twitter.com/SlH1fJQPRk

— Pamela Blake (@PamelaABlake) May 7, 2016