In the end, a touch of brinkmanship pulled the shutters down on 70 days of political stalemate and allowed Enda Kenny to make history by leading a second Fine Gael Government.
Here is how events unfolded.
26 February: Around two million voters cast their ballots. As the polls close, an exit survey sends shockwaves through the political establishment. The outgoing coalition's worst fears are forecast - a hammering from the electorate.
27 February: Counting begins around first light. As the day wears on, it is increasingly clear voters are turning away from the mainstream parties. A hung Dáil is widely predicted. Mr Kenny says democracy is "merciless".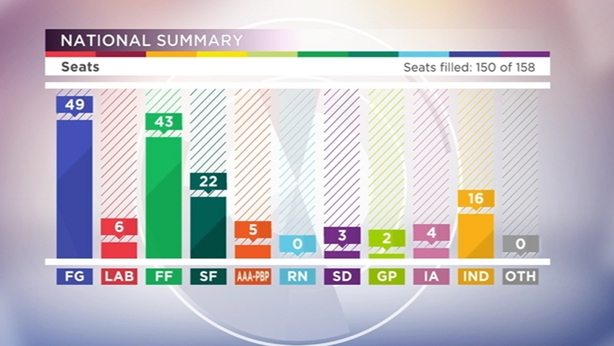 28 February: Mr Kenny rules out resigning or re-running the poll. Weeks of protracted negotiations are predicted. Counting continues, inflicting wound after wound on Labour. Gerry Adams rules out any Sinn Féin deals with the two largest parties.
29 February: Pressure builds on Fine Gael and Fianna Fáil to put aside enmities and form a "grand coalition". Former taoiseach Bertie Ahern says Ireland will celebrate the Easter Rising centenary without an elected government.
1 March: Mr Kenny vows to work with his rivals. He issues a statement, saying he will talk to all factions and forces to restore stability in the "changed circumstances".
2 March: He makes his first public appearance since the result, openly admitting it will be difficult to form a government. He concedes he needs some deal with arch rivals Fianna Fáil.
10 March: Mr Kenny tenders his resignation after the Dáil votes against him as taoiseach. Fianna Fail's Micheál Martin, Sinn Féin's Gerry Adams and Richard Boyd-Barrett of Anti-Austerity Alliance-People Before Profit also fail in their attempts.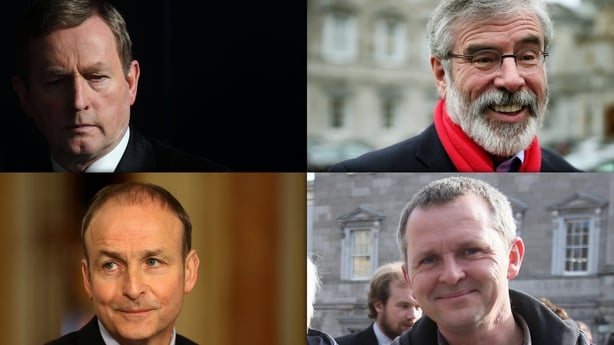 6 April: By now caretaker Taoiseach, Mr Kenny loses a second vote to be re-elected. He makes a direct appeal to Mr Martin to support him. The Dáil is adjourned for another week.
7 April: Fianna Fáil spurns the "historic" proposal to form a power-sharing government. Fine Gael describes its rejection as a "serious missed opportunity". Speculation mounts of a fresh election.
8 April: A tenacious Mr Kenny issues yet another plea to Fianna Fáil to form a government.
"Ending civil war politics is the best thing for our country now," he says.
10 April: Not for turning, Mr Martin uses a public address in Co Tipperary to deliver his latest rebuke. "Minority governments can work if people are willing to try," he says.
14 April: A third attempt to elect a new taoiseach fails. Neither Mr Kenny nor Mr Martin secures anywhere near enough backing. Mr Kenny picks up just two votes from outside his own party. More than a dozen independents abstain.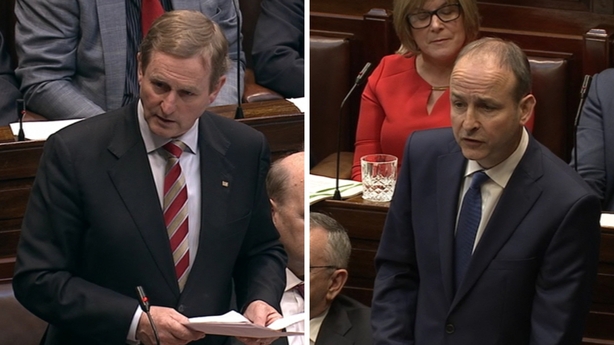 17 April: Mr Martin says majority rule is over. Fianna Fáil prepares for talks with Fine Gael about supporting them in a minority-led administration.
29 April: Both mainstream parties strike a pact paving the way for Fine Gael to resume office.
1 May: Fine Gael's Simon Coveney predicts a government will be in place within days as talks with independents gather momentum.
3 May: Independents cast doubt on an imminent deal with key figures warning about "stumbling blocks" holding back the negotiations.
4 May: Mr Kenny declares a new minority government could be "signed off tonight or tomorrow morning".
5 May: Mr Kenny effectively hands the independents a high noon deadline for today, 6 May - he orders a fourth vote on taoiseach to break the now months-long political stalemate.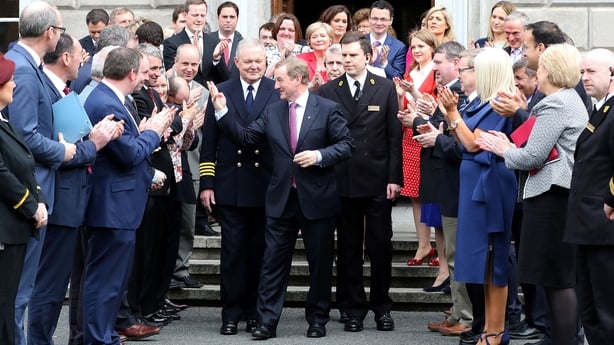 6 May: Mr Kenny finally elected the Taoiseach after getting over the line on a 59-49 vote.
He then travelled to Áras an Uachtaráin to receive his seal of office from President Michael D Higgins. 
Timeline: Path to Enda Kenny's second termhttps://t.co/JiXZoaqRCA

— RTÉ News (@rtenews) May 6, 2016