The first statue ever erected in honour of Robert Emmet has been rededicated at a special ceremony at a park in Washington DC.
The statue was commissioned by the Smithsonian Foundation in 1912 and originally located in the rotunda of the National Museum.
It was cast in 1916 and erected in June 1917 - the dedication ceremony was attended by then US President Woodrow Wilson.
It was rededicated originally 50 years ago to mark the 50th anniversary of the 1916 Rising, when President Lyndon Johnson sent a message to be read at the ceremony.
At that point it was moved from the museum to its current outdoor location, on long-term loan to the National Parks Service.
To mark the centenary of the Rising, the 100th anniversary of the statue's first casting and the 100th anniversary of the US National Park's Service, the statue was removed and restored and was finally unveiled on Wednesday.
It is located in a small park area on Massachusetts Avenue, near to the Irish Embassy and Irish Ambassador's Residence.
The area has also been renovated to mark the Park Service anniversary and so is more noticeable than it once was.
Democratic Congressman Joe Crowley, Vice Chair of the Democratic Caucus and fellow Irish-American congressmen Democrats Richard Neal, Brendan Boyle and Joe Kennedy, and Republicans Tom Rooney, Peter King and Chris Smith have together tabled legislation this year to rename the park in Washington DC as the Robert Emmet Park.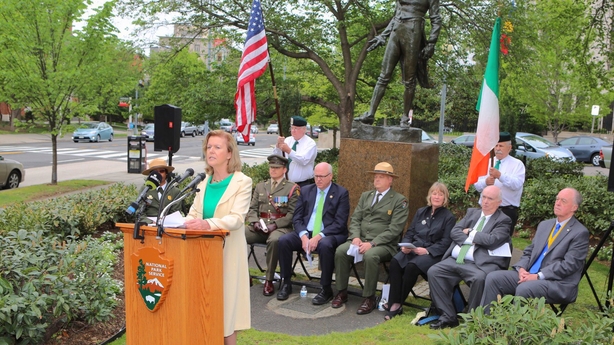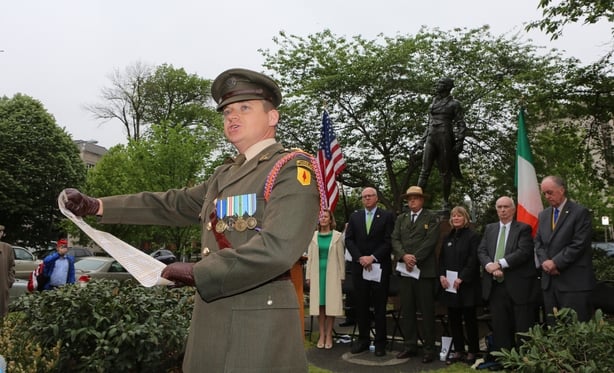 Addressing the gathering Ireland's Ambassador to the US, Anne Anderson said that the connection between the Robert Emmet statue and the commemoration of 1916 was "not merely symbolic or circumstantial".
She said those involved in the 1916 Easter Rising had looked to Robert Emmet's story, and that Patrick Pearse in particular has spoken of Emmet in speeches he made in New York and Brooklyn in 1914.
Although the seven foot tall sculpture was erected 100 years after Robert Emmet had died, it was the first erected anywhere in the world.
Ambassador Anderson said the rededication gave an opportunity for all Irish people to be strengthened in their resolve to be "true to its vision and ideals".
The Robert Emmet statue in Washington DC is the original of four identical statues created by the Irish sculptor Jerome Connor.
It was funded by a group of Irish Americans including the singer John McCormack.