Minister for the Environment Alan Kelly has claimed that any proposal to suspend or abolish water charges will mark "political, economic and environmental sabotage".
He said: "The issue of water has been a consistent blight on the political system for many years".
Mr Kelly told the Dáil that he believes "we are about to witness the triumph of mediocrity over modernism".
He pointed out that in 1977 local rates were abolished by Fianna Fáil and people paid income tax of up to 77% in the 1980s and there is a risk of repeating that period again.
The minister said Fianna Fáil could have made a stand over issues such as mental health or rural Ireland, but they chose to make a stand on the issue of Irish Water which costs householders on average €3 per week.
He also said that the law abiding people who paid their bills will have to get their money back and two million financial transactions will have to be carried out.
Speaking on RTÉ Six One News, he said that almost 70% of householders had paid for water charges.
Mr Kelly said he believed Fianna Fáil and Fine Gael, who he noted were not in the chamber, needed to tell people how and when they would give back their money.
He said: "Politics is failing the people of the country again. Utopian populism is winning again. It's Groundhog day. We will regret it, just as we did in '77."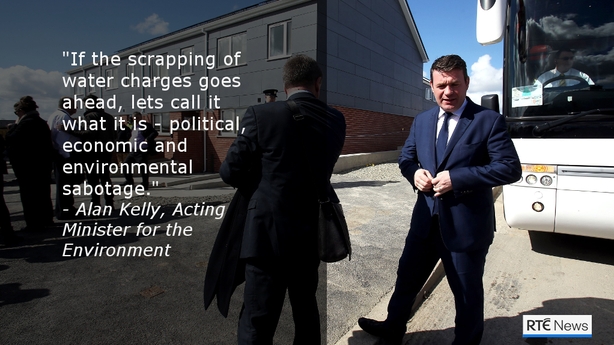 Limerick TD Willie O'Dea this morning said that a final deal with Fine Gael on Irish Water includes a temporary suspension of water charges.
Mr Kelly expressed concern that the "deal" between Fianna Fáil and Fine Gael had not been made with any engineering expertise.
He also said that Ireland did have a derogation from water charges but it was signed away by Fianna Fáil in 2010 who committed to water charges back then and asked why would countries that routinely pay for water give Ireland a derogation not to pay for water?
Speaking on RTÉ Six One News, Mr Kelly questioned the legality of the proposed deal, saying it was his understanding, under the EU Water Framework Directive, that the user must pay.
He said billions of Euro will be lost leading to waste issues and water shortage issues.
Fianna Fáil Leader Micheál Martin said it is important that deputies can outline their approach to the broad issue of water services.
He said this is very far from the single most important issue affecting the country but it is important as the handling of it in recent years represents a "dramatic public policy fiasco".
Mr Martin said there has been an enormous amount of ill-informed and highly skewed coverage of the issue in recent weeks.
He said the disdain for democratic accountability should never have been allowed and the future of water charges will be determined by all members of the current Dáil.
He said: "We welcome the fact that Fine Gael recognises the new reality and may agree a suspension of charges. They would be free to argue for the recommencement of charges after the suspension of charges.
"And equally we and others would be free to argue and vote for the non-imposition of charges during this Dáil term."
Water charges 'rammed down' people's throats
Fianna Fáil's environment spokesman Barry Cowen said water charges had been rammed down the throats of the people and the issue was getting more coverage than housing, rural decline and hospital waiting lists.
But he said the Dáil had shown collective responsibility by setting up a Committee on Housing, to make recommendations to the chamber.
He said water charges were not needed to meet EU directives, but Fine Gael rushed to introduce them and Irish Water ran out of control, describing it as a runaway train costing billions.
Deputy Cowen also said that despite all its funding Irish Water is spending less on repairs than between 2000 and 2010.
He said there was no regard for the views of the Dáil and the issue was literally rammed down the throats of the people by the biggest majority in the history of the State.
Mr Cowen said his party had made commitments in its manifesto in a number of key areas, among them scrapping Irish Water and water charges.
He said this Dáil has the opportunity to abolish water charges, to have a utility publicly owned and publicly accountable.
Sinn Féin leader Gerry Adams said that because there is no vote today, the statements on water are of little use to those who elected TDs to the Dáil to oppose water charges.
He said that the majority sought and won a mandate to abolish Irish Water and accused Fianna Fáil and Fine Gael of coming up with a "dodgy backroom" deal on the issue.
Mr Adams said nothing less than the scraping of Irish Water will suffice.
Minister for Agriculture and the Marine Simon Coveney said the suspension of charges for nine months, would provide time and space to examine funding models of for Irish Water.
He said the decision to set up Irish Water was to help families, and the accusations about privatisation were completely untrue.
The minister said Fine Gael maintains its position on having a single utility and a charging regime for clean water supplies.
He said while he understood Mr Kelly's frustration, he warned against a "rushed vote" on the issue in a politically charged environment - in the aftermath of the election.
Beginning of the end for Irish Water - Smith
AAA/PBP TD Brid Smith said we are witnessing the beginning of the end of Irish Water and congratulated people across the country who "fought tirelessly" to see this day coming.
She said that over 90 deputies were elected on the basis of opposing water charges.
The Dublin South Central TD said that we have to make sure that water is publicly funded by progressive taxation.
Independents 4 Change TD Joan Collins said Fianna Fáil got extra sets because they robbed the overcoat of the progressive left on the issue of water.
She asked that the issue of water be brought back into the Dáil so there can be a debate and vote on it.
AAA/PBP Deputy Mick Barry accused the Minister for the Environment of being a "bad loser" and said the back-tracking of government parties was a vindication of all the work done by campaigners.
"Once this car has stopped and the engine cools you'll have a bloody hard job at starting the car up again and getting the engine up and running again", he said.
Green Party wants fairness over water issue - Ryan
Green Party Leader Eamon Ryan outlined to the Dáil how his party worked with Fianna Fáil when they were in coalition to bring forward a charge on "the wasteful use of water".
He said he could not recall every moment of the long negotiations, however, he said there was no voice of dissent Fianna Fáil at the time - August 2009.
He said the then Green leader John Gormley went to Cabinet with a proposal, which he said included a measure to ensure fairness surrounding water.
A week later, he said, the approach was changed when the Greens left Government.
Mr Ryan said former environment minister Phil Hogan did not allow for a debate in the Dáil, putting a flat rate charge without the "sophistication" of putting it to the public.
"A principal for me is to maintain some sort of charge, if we do not monitor, if we do not measure, then we do not care", he said.
In his view he said the commission should come back with a proposal including a right to water with an element of fairness, monitoring, measuring and stopping waste.
Law-abiding citizens set to be penalised - Howlin
Minister for Public Expenditure and Reform Brendan Howlin said that if what he reads in the papers is true then we are going back to water services competing with other pressing demands for funding.
He said: "If there is competition between a cancer ward and a sewage treatment plant, what is going to lose out? The sewage treatment plant, investment in our water systems has no prospect of being successful."
He admitted: "It did take us too long to get the model right. We did act too swiftly because of the pressure on us from the Troika."
Mr Howlin said he can remember having to meet the Troika every three months as it decided whether to release money to the Government.
He said that despite all the rhetoric about the charges being a "calamitous imposition on ordinary people" they only cost a household €3 per week.
He said that if charging is abandoned now it will be gone for good, and that the law-abiding citizens who accepted the law of the land will be penalised for their loyalty.
"It is no accident that this is being driven by the same party that was responsible for the economic catastrophe that this country has now crawled its way painfully out of.
"If the lesson we should have learned from the economic crash is to think long term and to reduce the temptation to court popularity at the cost of the nation's long-term needs it's amazing how quickly we have unlearned that lesson."