President Michael D Higgins has officially opened the newly refurbished Military Archives building at the Cathal Brugha barracks in Dublin.
It houses what is described as the most significant collection of 1916 Rising material anywhere in the world.
It also has records of the Defence Forces stretching back to formation of the Irish Volunteers in 1913 and includes items from periods leading up to the present day.
The president said the response of citizens to such initiatives has been overwhelmingly enthusiastic.
He said during his visits to various parts of the country, he witnessed, everywhere, profound interest and pride in the events being commemorated this year, an eagerness to investigate the local variations of those events, to solve old enigmas, to salvage the stories and memories of so many quiet lives that, all across Ireland, were touched by those revolutionary years.
To coincide with the official opening, another batch of material from the Military Service Pensions Collection was released.
President Higgins welcomed the release of the files noting that on a personal note how meaningful it has been, through the information they convey about the experience of his family members, including his father, who fought in the War of Independence.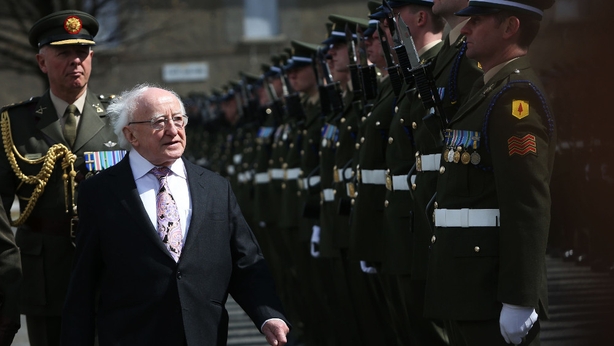 He also spoke about the Civil War saying it had divided his father's family.
The president also described as "brutal murder" the 1916 execution of Francis Sheehy-Skeffington and of his fellow journalists Thomas Dickson and Patrick McIntyre on 26 April in what was then Portobello Barracks, Rathmines.
He said the men had been summarily executed by a firing squad of seven men under the command of Captain Bowen-Colthurst of the Royal Irish Rifles, without any trial or any charges having been brought against them.
The three, all newspaper editors, had been arrested by British forces on 25 April 1916. They were all pacifists and not involved in the fighting during the Easter Rising.
The opening of the new facility represents one of the seven government capital projects for the 1916 centenary programme.