A new study by the Irish Cancer Society has shown that public patients may have to wait up to 25 times as long as private patients for tests to diagnose cancer.
The society said this means that, in the public system, patients will have their cancer detected later which could reduce treatment options and survival rates.
The findings of the study are stark.
The in-depth survey of GPs found that in some cases public patients have had to wait up to 480 days for an ultrasound, up to 360 days for an endoscopy, 280 days for an MRI, 240 days for a brain scan and 200 days for a chest scan.
Public patients wait an average of between 119-125 days for an MRI of the spine, musculoskeletal system or brain, while private patients are being tested in less than a week.
According to the Irish Cancer Society report, close to 90% of GPs surveyed said that the patient's ability to pay affected their access to referral services.
Just under half of the population have private health insurance and 39% hold a medical card. The remainder of the population has access to public healthcare but with little or no support for the costs involved.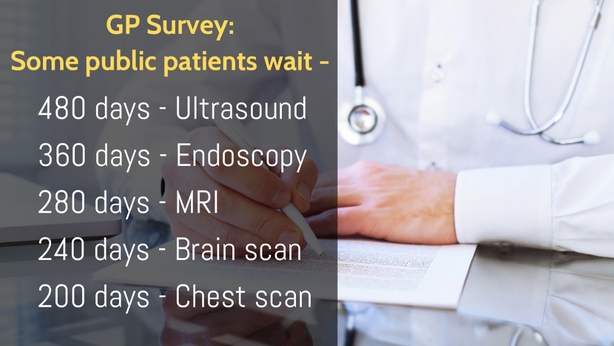 The HSE issued a short statement saying it was disappointed both with the content of the ICS report and the fact that it was not properly engaged in the production of the report.
It said the report did not differentiate between urgent and non-urgent cases.
Patients 'deteriorate' while waiting for appointment
Head of Services and Advocacy at the society Donal Buggy said the grim reality of the health care system is that the difference between life and death can come down to a person's ability to pay for healthcare.
Speaking on RTÉ's Morning Ireland, Mr Buggy said patients who obviously have cancer are treated more quickly than the average waiting time of 125 days.
He said those who are suspected of having cancer, or patients where a GP is uncertain about their status, face long waits.
Meanwhile, Yvonne Williams of the Irish College of General Practitioners said she has seen patients with suspected cancer deteriorate while they wait for an appointment.
In every consultation where a patient is displaying symptoms of cancer she said she dreads the moment of asking patients if they have health insurance or if they have the money to pay for a private appointment in a local hospital.
Speaking on RTÉ's Today with Keelin Shanely, she said it is heartbreaking because the system is not fair and public patients should not be waiting as long as they are.
There is a lack of staff, consultants and radiographers, she said.
She added that there should be community facilities available to allow GPs assess cat scans and interpret the results themselves.
Consultant Oncologist Professor John Crown said the main problem is that the business plan of the Health Service Executive is based on waiting lists.
He said he is despondent about reform of the health system.
It is unacceptable that it could take months for someone with suspected cancer to be seen, he said.
He added that patients in a hospital bed could be left waiting up to a week for a scan.