A draft agreement between Fine Gael and Fianna Fáil on a minority government led by Enda Kenny would see a three-stage deal on water charges.
The outline draft, which has still to be endorsed by Enda Kenny, Micheál Martin or their respective parliamentary parties would involve a Commission examining the Irish Water issue alongside a nine-month suspension of the charges.
The Commission's terms of reference would involve infrastructure and funding questions but would see the utility remaining in existence.
The suspension could be extended to allow a Dáil committee to then examine the Commission's recommendations.
The committee, whose members would be selected by the d'hondt system which would see all elements of the Dáil represented, could then produce options which the Dáil would then debate and decide on.
The draft agreement, which party negotiators tentatively signed-off on last night,  binds both Fine Gael and Fianna Fáil to accepting the Dáil decision.
The talks between Fine Gael and Fianna Fáil negotiators ended for the night, with both sides expressing optimism that outstanding issues can be resolved.
Minister for Agriculture Simon Coveney said some progress had been made "on the difficult issues around water" and that both sides would meet again tomorrow "to try to build on that progress".
Mr Coveney said there had been "good engagement" between the negotiating teams, with both parties "trying to find ways to accommodate one another".
Mr Coveney said that nothing had been agreed or finalised, and that more work needed to be done overnight. 
FG, FF party negotiators say progress has been made in govt formation talks https://t.co/3ldl5I8SFbhttps://t.co/Av86G8xkfm

— RTÉ News (@rtenews) April 26, 2016
Fianna Fáil negotiators say a number of issues still have to be discussed with Fine Gael. 
Deputy Jim O'Callaghan said there had been "some progress and some movement" from both sides, and that the negotiating team would now report back to party leader Micheál Martin.
He said that important issues still had to be discussed, including rent supplement and mortgages.
Mr O'Callaghan said he hoped the talks would reach a conclusion "very promptly", adding that tomorrow would be an important day. 
He said he believed the fact that there had been some movement from both sides was significant.
---
Further reporting by Political Correspondent David Davin Power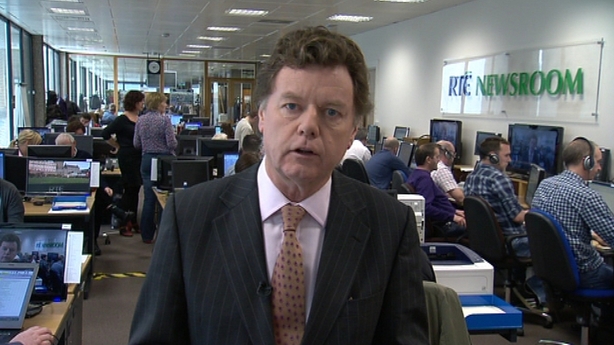 If the deal were to be endorsed it would involve Fianna Fáil accepting the principle of a minimum nine month suspension of charges, and accepting the idea of an overriding utility and Fine Gael agreeing that the suspension period could be much longer to allow the Dáil committee and the Dáil itself decide.
Other issues such as support for the housing sector and those in mortgage difficulties remain to be addressed in the talks but the water issue had been seen as the deal breaker.
The Dáil debates the water issue tomorrow but there will be no binding vote.
The draft deal will have to be agreed by the two parliamentary parties.
Enda Kenny in particular will have to convince his backbenchers to an agreement that some of them will see as a climbdown.
Some sources expect that an overall agreement for government might be difficult to conclude before the holiday weekend starting on Friday.
---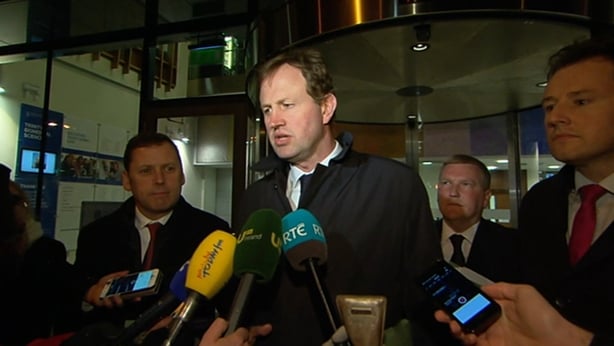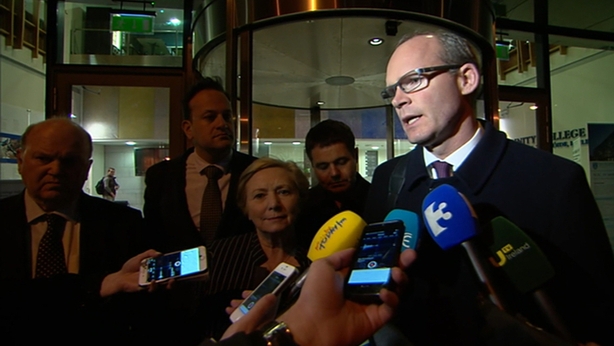 Earlier Fianna Fáil told the Government chief whip the party can no longer support Fine Gael in blocking Dáil motions on Irish Water and has asked for a debate on the issue in the House tomorrow.
Fianna Fáil negotiator Michael McGrath said his party's view was that the Dáil should be the final arbiter in relation to Irish Water.
He said Fianna Fáil is very anxious that the Dáil have the opportunity to debate the issues of Irish Water as quickly as possible - as early as tomorrow - and would vote accordingly in the order of business if that was necessary to accommodate such a debate.
Fine Gael's initial offer to Fianna Fáil this evening involved a proposal to retain Irish Water and to refer the issue of water charges to an independent commission.
It was previously stated that the commission would last six to nine months but it is understood the timeframe of the proposal is not definitive.
It is understood the commission's recommendations would be addressed by an Oireachtas committee and then go to the Dáil for a vote. 
Fianna Fáil had sought a five year suspension of the charges. 
Fellow Fianna Fáil negotiator Barry Cowen said if Fine Gael did not accept his party's will in the current talks it might accept the will of the Dáil.
The move follows pressure from independents, AAA-PBP and Sinn Féin for a Dáil debate on the issue.
An attempt to hold a debate on Irish Water today failed. AAA-PBP TD Richard Boyd Barrett said there was an interesting choreography between Fine Gael and Fianna Fáil and claimed it "smacked of cynical collusion".
Fianna Fáil leader Micheál Martin rejected this, saying his party is committed to assisting government formation.
Mr Cowen said earlier that discussions were coming near end game but that there were three or four issues, including water, that were still outstanding.
There is increasing concern about the differences between Fianna Fáil and Fine Gael after Minister for Finance Michael Noonan this morning said it may not be possible to do a deal with Fianna Fáil to form a government.
But he added but that they are still talking and reasonably optimistic.
Mr Noonan said that the talks were "stuck on the political issue of water" but that the compromises Fianna Fáil wants and that Fine Gael was prepared to make do not match.
Everyone knows the consequences of a deal not being done, he added.
Everyone knows the consequences of a deal not being done, says Michael Noonan https://t.co/3ldl5I8SFbhttps://t.co/5GHr7Q4z7m

— RTÉ News (@rtenews) April 26, 2016
It has emerged that some senior members of Fine Gael have been in contact with backbenchers to get their views on water charges and possible concessions.
At today's Cabinet meeting, the Taoiseach thanked everyone for their work and said history would look kindly on them.
The Cabinet has met several times since the General Election and many have noted that this is the first time Taoiseach has made such remarks.
People 'fed up' with Fine Gael-Fianna Fáil talks
Meanwhile, one of the leaders of the Social Democrats has said people are fed up with the ongoing talks between Fine Gael and Fianna Fáil.
Stephen Donnelly called on both parties to remove the issue from the negotiation table and allow the Dáil decide the future of Irish Water and water charges.
Speaking on RTÉ's Morning Ireland, he said that water was just one of the key issues of the election and the situation is now totally unacceptable.
It is outrageous that the 32nd Dáil could be collapsed over the issue of water, he said.
Mr Donnelly said that his party would call a referendum on public ownership of Irish Water, establish a national water board and end domestic charges.
He also said that he has not paid his water charges.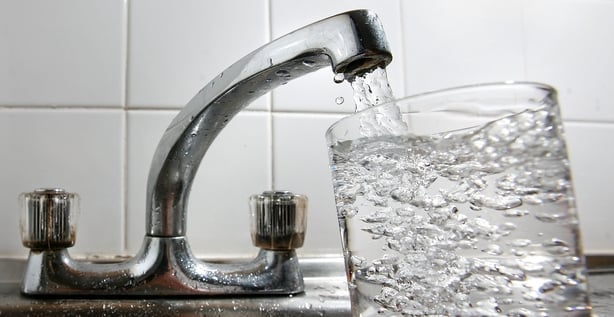 Analysis: The public finances without a government
Howlin seeks conclusion of talks or election
The Minister for Public Expenditure has said it is unacceptable that a government has not been formed yet.
Brendan Howlin said he did not expect to be doing government business on a caretaker basis 60 days after the general election.
He said the process should be brought to a conclusion or another election held.
Mr Howlin also said water is a significant issue but not the most important one and that Irish Water needed to be kept intact.
Minister for the Environment Alan Kelly said that scrapping water charges would make fools of the people who paid their bills and who have been paying for water all their lives.
Speaking on his way into Cabinet, Mr Kelly said abolishing Irish Water would be environmental, economic and political sabotage.
He said Fianna Fáil's position on water is not tenable and that the party is talking about the issues in a vacuum without the full facts.
If the utility was scrapped, he said, there would be water shortages in the city within a few years and that would have economic and social consequences.