Recently Fianna Fáil's Dara Calleary said we were nearing the end game in the efforts to form a government. He was a little out in his timing. But we are surely entering the end game now in Fine Gael's attempts to form a minority government, writes RTÉ Political Reporter Brian Dowling.
Enda Kenny has been proposed for re-election as taoiseach on three occasions since the General Election and each time rejected by the Dáil.
Micheál Martin, Gerry Adams, Richard Boyd Barrett and Ruth Coppinger have also been rejected.
But there is a difference between Mr Kenny and the rest. As the acting Taoiseach he has been in the driving seat in the attempts to form a government. So how much road does he have left now?
Unless he can get a minority Fine Gael government off the ground in the coming days, the end of the road will loom ahead. The process cannot continue indefinitely.
He must know that and his party must know that. In that sense he is under more pressure than any other leader in the Dáil.
Yesterday he was 65. Before the election he and Fine Gael were confident that by this weekend he would have been the first leader of his party to achieve two successive terms in office.
It hasn't happened and the next few days could be his last chance to achieve that goal during this Dáil.
There is one card that might, just might, tip the balance in his favour – that card is the prospect of another General Election.
There isn't a single TD in the new Dáil who would want another election, least of all those in Fine Gael or Fianna Fáil.
Fine Gael suffered very serious losses in February and even though it might campaign on the basis that they did everything to try to form a government they would enter a new election with Mr Kenny at the helm.
There is no escaping the reality that his standing and his political authority have been damaged by the contest in February.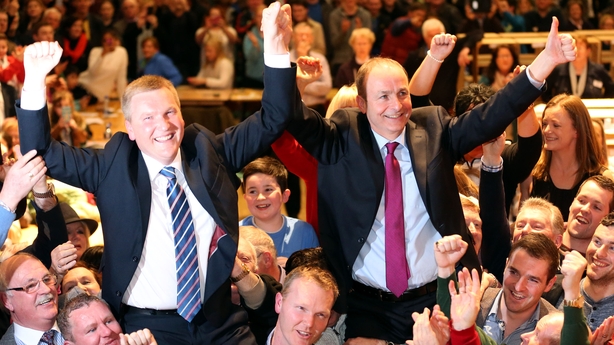 Mr Martin emerged from the election with a result that was better than many in Fianna Fáil might have expected. How many of Fianna Fáil's newly-elected TDs would like to contest their seats again in a few weeks?
A similar consideration applies to Sinn Féin and other parties, groups and independents.
The risk of another election will concentrate minds very powerfully in the days ahead. It might be sufficient to force either Fine Gael or Fianna Fáil, or both, to find a compromise on water charges that opens the way to a minority government with Mr Kenny back as taoiseach.
Right now it is hard to see Fianna Fáil agreeing any compromise that involves the retention of water charges in any guise during the duration of this, the 32nd Dáil.
Equally, Fine Gael believes that a majority of people are willing to pay water charges and that in these negotiations the party has been willing to go a long way in addressing issues of affordability by exempting more people and offer greater free allowances of water to minimise charges further.
So where might a compromise lie? Both sides agree on setting up a commission to look at the company, Irish Water, water charges and the provision of a water infrastructure.
Today, they will look again at possible terms of reference – Fianna Fáil want charges scrapped, paused, suspended for the duration of this Dáil even if a commission was to recommend a new charging system.
Fine Gael wants charges retained in some form – even while the commission is conducting its work.
Here's the bottom line: if they can find a compromise around what happens to water charges with a commission in place then a minority government is possible; if not, the prospect of a minority Fine Gael government is over, along with Mr Kenny's prospect of becoming taoiseach in the 32nd Dáil.