Sinn Féin president Gerry Adams has accused Fianna Fáil leader Micheál Martin of putting Fine Gael back in government, despite pledging not to return Enda Kenny to power.
He was speaking at the close of party's Ard Fheis in the Convention Centre in Dublin this evening.
During his keynote address Mr Adams accused Mr Martin of not acting in the national interest.
He said Mr Martin had vowed not to give Fine Gael a second term and yet, he said, this is exactly what the Fianna Fáil leader was doing.
He also criticised Independents for standing with Fianna Fáil and Fine Gael. He said his party had been willing to talk to both parties but they refused.
Mr Adams said his party had a plan for the regeneration of rural Ireland and he said they would campaign to repeal the Eighth Amendment.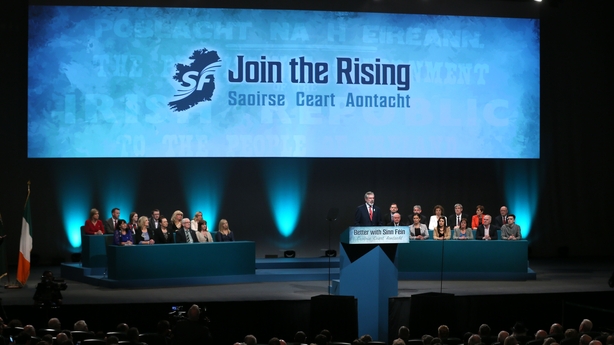 Earlier the party's deputy leader Mary Lou McDonald also attacked Fianna Fáil, accusing them of borrowing Sinn Féin's policies on water charges for cynical electoral reasons.
She called on Fianna Fáil to stick to its promise and abolish Irish Water.
Ireland has experienced the deliberate calculated rejection of everything the Easter 1916 Proclamation espouses, she said.
Exclusion and inequality are not an accident and they have been caused by Fine Gael and Fianna Fáil, she claimed.
On the current government negotiations, she said: "The farce that has unfolded over the last eight weeks is not driven by an instinct for reform, it is driven by an instinct to suppress the political alternative in this State."
She said they cannot hold back the tide of the political change.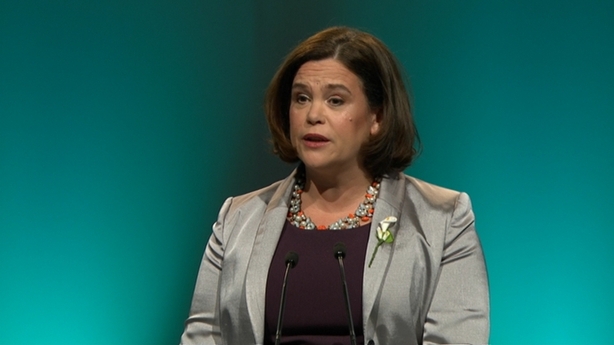 Motions on the environment and transport were debated this morning at the Ard Fheis
A number of speakers called for action to help households, businesses and the farming community who have been devastated by recent flooding.
This morning has heard calls for the establishment of a new River Shannon flood management body and building flood defences for the Shannon.
This afternoon a motion was passed supporting the formation of an all-Ireland soccer team "to represent the Irish nation on the international stage."
A motion was passed calling on the new government to bring forward a green paper on Irish unity and to begin the political planning for unification.
A motion was also passed to support the introduction of paid leave in the workplace for victims of domestic violence.
Other motions called for measures to allow those on social housing lists to move from one jurisdiction to another, particularly around border areas.
The party held a celebration of the centenary of the Easter Rising involving music, drama and guest speakers before the keynote address.
About 3,000 delegates attended the conference, which was held on the weekend of the centenary of the 1916 Rising.
In his address last night, Northern Ireland's Deputy First Minister Martin McGuinness called for extremes within loyalism and dissident republicanism to be faced down, saying that dissidents were waging war on communities.
His comments come just a few weeks before Northern Ireland's Assembly elections.