Minister for Agriculture Simon Coveney has said he hopes talks between Fine Gael and Fianna Fáil can be wrapped-up by Saturday.
Talks between the two parties at Trinity College ended without the controversial issue of Irish Water being discussed.
Speaking after the talks, Mr Coveney said the parties would return to the difficult question of Irish Water tomorrow after securing expert advice.
Asked if he was optimistic about forming a minority government, he said: "Yes. We wouldn't be involved in this process if we didn't believe it was possible. That's not to say it is easy or straight forward - it is not."
Fianna Fáil negotiator Barry Cowen said "some progress" was made during the four-hour meeting, although he warned there were "many outstanding items" which his party were "very anxious to address".
He also said reports of an agreement on the issue of Irish Water were "incorrect".
Ground rules for government
Following today's discussions it is understood that Fianna Fáil has agreed to abstain on the election of taoiseach, as well as the nomination and reshuffling of ministers.
RTÉ's Prime Time has reported that the overall framework document for government would also include an agreement to vote against or abstain from votes of no confidence in the government or individual ministers.
Ground rules for govt - @KatieGHannon reports on the framework document between Fine Gael and Fianna Fáil https://t.co/kmGoh6nGQP

— RTÉ News (@rtenews) April 21, 2016
However, it is understood that both parties are not taking a mutual stance on every government issue. The document will specifically state that Fianna Fáil will retain the right to oppose legislation.
The document also includes pairing arrangements. It is understood that Fianna Fáil will agree to support budgets framed within the four agreed policy priorities that the party has already laid out in their own manifesto and in their discussions with the independents.
The policy areas include cost of living, crime, housing, community and public services. It also includes a 2:1 split between public services and spending.
It is understood the document includes an open approach to avoiding policy surprises.
In relation to the lifespan of the government, it is understood there will be a review clause set for the summer of 2018 which could be pushed out to October as requested by the independents.
Earlier today, several members of Fianna Fáil told a parliamentary party meeting that the party should maintain its position that water charges should be suspended for five years.
Up to 12 members said they had campaigned on the issue, with five other members saying there should be flexibility.
It was suggested at the meeting that if the party did not soften its position there could be an election and it could be on the issue of water.
The negotiating team must report back to the party on the proposals that emanate from its negotiations with Fine Gael on supporting a minority government.
The party was told to be on standby for another meeting on Saturday or Monday in case progress was made.
Negotiating teams have been looking at the introduction of a generous water usage allowance.
It is understood there is a proposal to suspend water charges until an allowance is introduced, which a senior source said could take a number of months or until the end of the year.
The proposal has not been agreed.
A Fine Gael parliamentary party meeting was reportedly brief, with little details on the measures being proposed.
Ministers Michael Noonan, Simon Coveney and Paschal Donohoe briefed their party colleagues.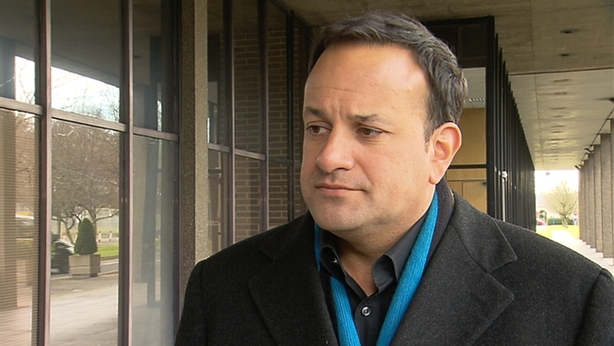 Speaking ahead of the renewed talks at Trinity College today Minister for Health Leo Varadkar, one of the Fine Gael negotiators, said he was "reasonably optimistic" that talks with Fianna Fáil will be successful.
Mr Varadkar said the negotiating teams "made some very good progress yesterday" but they were still "a distance away from a deal".
Mr Noonan said the talks had been "quite good."
The Minister for Finance added: "Since they [Fianna Fáil] moved away from the position of sending responsibility of Irish Water back to Local Authorities, and agreed to a national utility - that has been a bit of a game-changer."
He said talks on the Irish Water proposals "went down fine" at a Fine Gael parliamentary party meeting earlier today and there had been "very little discussion".
Fianna Fáil's Charlie McConalogue said his party's team "needs to make sure the outcome [of the talks] is a stable minority government, and it's going to take time."
Asked about today's Fianna Fail parliamentary party meeting, Mr McConalogue described the discussions as "very productive and constructive", adding his colleagues wanted the negotiating team "to engage further".
Speaking about what has been reported so far about the negotiations, Sinn Féin's Pearse Doherty accused Fianna Fáil of the ultimate betrayal of the electorate.
He said that Sinn Féin will be holding it to account.
Halligan to meet minister over cardiac care
Elsewhere John Halligan, the Independent TD for Waterford, has said he will be meeting the Minister for Health Leo Varadkar to see what the position is on funding for cardiac care at University Hospital Waterford.
Mr Halligan said a second CAT lab and 24-hour cardiac care is needed not just for Waterford but for the southeast.
A clinical review of the hospital will have to be done, but Mr Halligan said consultants are confident it will show the hospital fills the criteria for a 24-hour cardiac care unit.
President says new circumstances provide new opportunities
Meanwhile, President Michael D Higgins has said it is important that the negotiations end with an outcome that will be beneficial to the welfare of all people of the country.
Speaking after a State commemoration at Banna Strand in Co Kerry, President Higgins said new circumstances always provide new opportunities as well as new solutions and new approaches to problems.
He said it was important that positive approaches are taken to what are very significant problems facing the country. He specifically referred to homelessness, unemployment and the future of the EU.