A 6.2 magnitude earthquake has shaken Ecuador's already devastated Pacific coast, terrifying residents and hindering rescuers searching for survivors of Saturday's even bigger quake which killed more than 500 people.
The latest big tremor, which followed several hundred aftershocks from Saturday's 7.8 quake, hit 25 km off the island of Muisne on the northwest coast at a depth of 15 km, the US Geological Survey said.
That was near the epicenter of the weekend's major quake, which leveled a long swath of the coastline and dealt a major blow to the oil-producing nation's already fragile economy.
To help fund a long, multibillion-dollar reconstruction, Ecuador may issue bonds on the international market, President Rafael Correa said on Wednesday.
Meanwhile, already shaken Ecuadoreans were woken up by two strong tremors of about 30 seconds each on Wednesday, sending residents running into the street.
"You can't imagine what a fright it was. 'Not again!', I thought," a resident of Pedernales, which bore the brunt of Saturday's disaster, said.
On a highway outside town, children sat holding placards saying "food, please".
No tsunami warning was issued and there were no immediate reports of deaths or major new damage.
Ecuador's Geophysical Institute reported 17 aftershocks.
Local media said rescue operations were temporarily suspended as hopes dwindled of finding anyone alive from Saturday's quake, which killed 525 people, according to a central government tally.
More than 100 people are still missing and more than 4,600 were injured in that disaster, which destroyed about 1,500 buildings, triggered mudslides and tore up roads.
Some 23,500 are sleeping in shelters, their homes and livelihoods crushed.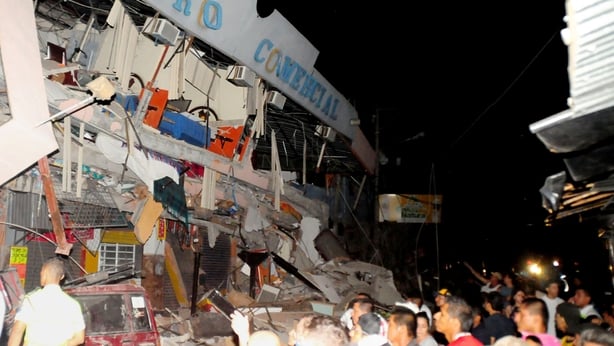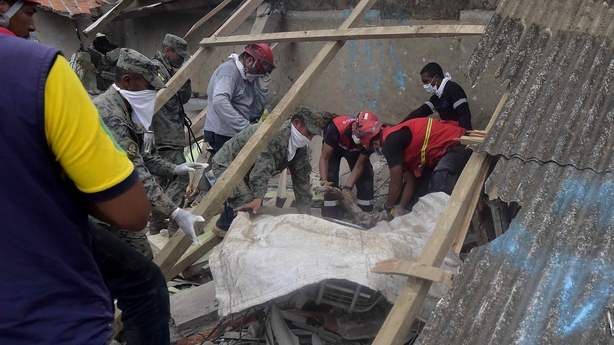 It destroyed or damaged about 1,500 buildings, triggered mudslides and left about 20,500 people sleeping in shelters, according to the government.
Rescue teams had been using dogs, their bare hands and excavators to hunt through debris of flattened homes, hotels and shops in the hardest-hit Pacific coastal region.
Supervising rescue work in the disaster zone, Ecuador's President Rafael Correa said Saturday's quake inflicted $2bn to $3bn of damage to the oil-dependent economy.
"Let's not kid ourselves, it will be a long struggle. Reconstruction for years, billions [of dollars] in investment," said Mr Correa.
"In the short term, we're going to need tens of millions of dollars," he said from the quake-hit town of Tarqui.